How The Returned opened up Mogwai to a new audience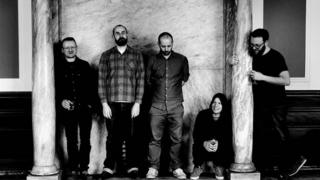 Since forming in Glasgow in the mid-nineties Scottish quintet Mogwai have continued to push the boundaries of post-rock music.
Championed by John Peel in their early days, they've produced eight studio albums and two soundtracks.
Known for their quiet-loud-louder dynamic with instrumental guitars and defined bass riffs making layers of moody melodies, they enjoy a cult-like status among fans.
So it was a natural fit when director Fabrice Gobert turned to Mogwai to create the score to his stylish and creepy supernatural drama The Returned - or Les Revenants - set in a French mountain community.
"Being asked to make spooky music for a dark French show like this was the perfect remit for us," says band member Barry Burns.
Gobert, who loves Mogwai's music in general, approached the band after listening to another soundtrack they composed for Douglas Gordon and Philippe Parreno's 2006 football film Zidane: A 21st Century Portrait.
Following the critically acclaimed first series of The Returned, Mogwai are looking forward to working with Gobert again.
"I'm really pleased how it turned out," says Burns. "It was a lot of fun. We were just allowed to get on with it. It's also nice to have this ongoing conversation between you and the director, because when you make a record on your own you don't have any of that.
"I don't think a lot of people in the film industry understand how music is made because they're not musicians. So to have [Gobert] understand everything - he was also very pragmatic - was a really nice dialogue to have."
Repeat the experience
As with many musicians, scheduling often makes it difficult for Mogwai to lend their talents to other projects, regardless of how much they want to.
But Burns says after some initial difficulties, they will have time to "make more music for the second series" of The Returned.
"I guess they'll keep a lot of the music from the first series because they have certain music for certain scenes but we'll probably have new characters to make new stuff for," adds Burns. "We're really looking forward to the experience again."
Mogwai certainly enjoy the creative challenge of experimenting with new projects.
Burns admits: "It keeps it from getting boring. It means there's more variety in what we do."
But their involvement in such a popular TV show has also proved a clever tool in reaching a whole new fan base. Burns says it's a by-product of trying something different.
"We noticed after the first series, when the soundtrack came out, we had loads of digital downloads of our music. Historically we're more of a physical release band and a lot of people buy vinyl. But it was clear that a lot of people who don't normally listen to us were buying our records," says guitarist Stuart Braithwaite.
"That was good - although we were never really doing it for that," adds Burns. "It's nice to have more people listen to our music and maybe they'll buy our normal records - or maybe they won't care at all about that!" he jokes.
Their collaboration with fellow Scot Douglas Gordon, for his 2006 movie about the retired French footballer Zinedine Zidane, resulted in a series of live performances of the film score last year.
"I'm really glad we did that," says Burns.
"A few years ago when the idea came up about doing a live show, we thought it might look weird. We thought it could be boring for people to come to a show and watch the film if we don't really play for a lot of it.
"But we actually added a lot of music and extended it so that it was more of a concert, rather than just the film with the music exactly like it was in the original production," adds Burns.
Castle of Doom
As with their last studio album, 2011's Hardcore Will Never Die, But You Will, their latest record - Rave Tapes - is so far impressing critics, described as "powerful and accomplished" by Uncut magazine while Drowned in Sound suggested that while "underwhelming", the album is "beautiful enough that maybe that doesn't matter".
Rave Tapes was recorded at Mogwai's Castle of Doom studio in Glasgow by Paul Savage, who has worked with the band on numerous occasions.
"We started writing the record in January last year - some of it in our scabby rehearsal space in the Gorbals and at mine and John's home studios and Barry's place in Berlin, says Braithwaite.
The 10-track record features drums, guitars, synthesizers, piano and singing to make an overall sound that's more electronic than much of Mogwai's repertoire.
"We don't really have a plan before we make an album," says Burns.
"I think we all trust each other that we want to make it different to what's gone before. It's usually quite instinctive. Usually one person has an idea and we all join in."
The American filmmaker and composer John Carpenter, known for his 1970s and 80s science fiction and horror films, is an obvious influence on Rave Tapes, not least with the haunting electronics in the opening instrumental track Remurdered.
"We all have very different taste in music," says Braithwaite.
"There's only a few touchstones where we all like the same music and John Carpenter is definitely one of them.
Burns adds: "Led Zeppelin is in there too and there's one song on the album that really sounds like a Led Zeppelin song."
German electro pioneers Kraftwerk are another influence, but Mogwai have no plans to imitate their series of sell-out retrospective gigs at London's Tate Gallery last year.
"It seems a bit nostalgic," says Burns. "We did do it once because we were offered a lot of money and then we didn't get paid, but we've talked about it with our agent and it seems a bit like saying 'here's the end of the band and here's some songs we used to play'."
Mogwai are currently playing a series of concerts, including two dates at London's Royal Festival Hall, but don't expect anything too experimental.
"We just play music," laughs Burns.
"I think people just expect that now, they don't expect us to have elephants or fireworks. We do put on a show. But when you think about it, it's quite embarrassing. It's a bit like 'ta da, here's some lights from the band'. I would go and see bands like [British rock band] Ride a long time ago. It was just a show with loud music and some lights and that's pretty much what we do.
Mogwai are currently on tour. Rave Tapes is released on 20 January on Rock Action Records.