EastEnders cleared over 'racist' complaints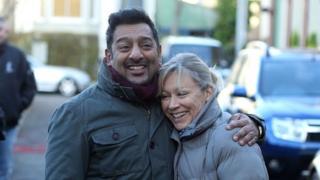 EastEnders has been cleared by the broadcasting watchdog over complaints about a Muslim character berating her father for dating a "white woman".
Ofcom decided to take no action after receiving 87 complaints about the episode shown on 14 January.
It marked the return of Shabnam Masood from Pakistan as a more devout Muslim and with strident views.
The BBC said that her father Masood was shown expressing his discontent with her opinions in a subsequent episode.
The broadcaster also received a number of complaints about racial discrimination after the programme aired.
The BBC responded to the objections, saying: "EastEnders has a rich history of tackling social issues.
"The show does not advocate racism or intolerance in any way, in fact it seeks to challenge these negative views."
Shabnam objected to her father dating Carol Jackson, leading her to make the remark in front of her.
The ensuing friction led Masood and Carol to call an end to their relationship.
The character of Shabnam was last seen in Albert Square in 2008, played by a different actress, Zahra Ahmadi, who starred as the character from her entrance to the soap in 2007.
She is now played by Rakhee Thakrar.
Ofcom also ruled against investigating complaints about the British Comedy Awards, which were broadcast in December.
The watchdog received 49 objections in relation to offensive language during the televised show.