Girls cast on the show's quest to 'normalise' sex on TV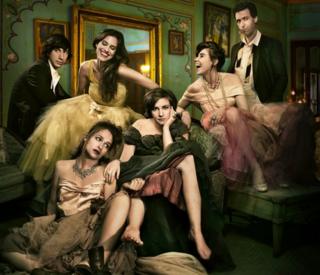 As season three of Lena Dunham's hit comedy-drama Girls arrives in the UK, the cast talk to the BBC about its success, life on set and the show's quest to normalise sex on TV.
When the twenty-something Girls first graced our television screens in October 2012, the comparisons to Sex and the City were inevitable, revolving as it did around the lives of four young women living in New York.
But the struggles of Hannah, Marnie, Jessa and Shoshanna have been less about finding a man to settle down with and much more about finding themselves.
"People everywhere seem to really relate to the concept of struggling to try to become yourself, to try and figure out your place in the world," says Dunham, who writes, directs and produces the show for HBO, as well as playing Hannah - a character inspired by her own years fresh out of college, struggling to forge a writing career.
With Girls, 27-year-old Dunham is hoping to "give women a more realistic portrayal of their lives" than what has been available on TV before.
Which, so far, has tended to involve Hannah being naked quite a bit (in the bath, on the loo, playing table-tennis) and many highly awkward sexual encounters for all four of the girls.
"There's a lot of integrity in that you know," Allison Williams, who plays Marnie, tells the BBC.
She says Dunham wants the sex on Girls "to normalise sex for other people".
"She wants people to see the sex on our show and be like 'oh my god, other people have that sex?'.
"And that can be why it can be so uncomfortable to watch the show with other people, because you kind of have to dip your toe in and be like, 'has anyone else..?'. And then it's a unanimous 'yes' and you're like, 'oh phew! OK, I'm not the only one here!'"
Zosia Mamet - whose character Shoshanna lost her virginity awkwardly in season one - says the cast have never said no to stripping off, as they know it is "for the sake of creating good art".
"Lena really doesn't ever write a sex scene or nudity that doesn't have a point in the story - we're never going to have a sex scene that's arbitrary," says Mamet.
"So we really trust her and will pretty much do anything she asks."
For Dunham's part, she tries "not to get annoyed" by all the attention given to the show's sex and nudity.
"Sometimes it does feel like that conversation diminishes the larger thing that the show is trying to do," she admits, at a special UK premiere to launch the new series.
"Consistently focusing on how much I'm naked and when and why sort of prevents people from just being part of the viewing experience, and so I do hope on our third season that won't be the main conversation.
"Although the fact there's any conversation is a blessing," she adds.
Male perspective
The cast and crew say they are "like family" and are full of praise for Dunham, who is "brilliant" and "the opposite of a diva" according to Williams, who adds that "no diva-dom is tolerated" on set.
The show also has Hollywood heavyweight Judd Apatow - who wrote and directed Knocked Up and This is 40 and produced Bridesmaids - on board as an executive producer, along with showrunner Jenni Konner. But it is Dunham who has control.
"We give her all of it - that's why we're doing it, so that her voice can get heard," says Konner, who saw Dunham's debut feature film Tiny Furniture and, along with her mentor Apatow, became "obsessed with the idea of working with her".
"All we wanted to do was preserve her voice, we in no way wanted to mould her. Her growth is so quick she learns 5,000 things a day. She matures very quickly," adds Konner, who has already elevated the younger Dunham to "mentor" status too.
Apatow also writes on the show, and his male point of view plays a vital role on Girls.
"It's sort of an outsiders perspective, in that he's not with us every day - because he does like four billion other things - but he's able to see things that we could never see in a million years because we're too deep in it," explains Konner.
"He watches every daily and reads every script and is involved in the story plotting deeply. So when we get a call saying 'oh you have to reshoot that part', we know to listen because he's really got a clear point of view."
'It's an Adam'
Konner says she finds it "shocking" how much the show has "spoken to people", as she originally thought they might be "making a puppet show for three friends".
But much like the days of Sex and the City's 'Mr Big', Williams believes Girls has given people "a bunch of templates" to help them describe their own relationships, named after characters such as Hannah's on-off boyfriend Adam.
"I have friends who have been with 'Adams' since the show has been on the air and it's so much easier for them to explain it that way.
"It's like, 'he's super mysterious, I don't know anything about him, but I can't stay away from him and he doesn't even know what my last name is'. It's just a helpful point of reference to be able to say, 'It's an Adam'."
As season three debuts on Sky Atlantic in the UK, we will find the girls "trying to get their acts together", according to Konner.
"I'm not saying it's going to be successful, but there is an attempt this year," she adds.
But with Williams and Mamet both labelling it "the best job on TV", and the cast already signed up to make season four, nobody seems in any rush for them to sort their lives out.
"I will be Marnie for as long as they will have me," says Williams. "For as long as Marnie exists, I will keep coming back."
The third season of Girls starts 22:00 GMT, Monday 20 January on Sky Atlantic HD. Seasons 1 and 2 are available through Sky's On Demand service from Sunday 19th.