Call the Midwife return watched by 9.6m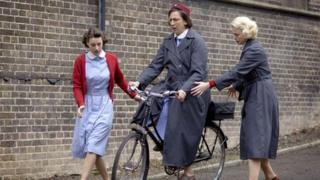 The return of BBC One's Call the Midwife has attracted the biggest TV audience of the year so far with 9.6 million viewers, according to overnight figures.
It beat the overnight audience for the return of Sherlock, which attracted 9.2 million people on New Year's Day.
It also trumped the 9.2 million overnight audience that saw the return of Downton Abbey in September.
ITV's Mr Selfridge also returned on Sunday watched by 4.9 million.
The figures were down by nearly two million from episode one of the first series, which was seen by 6.8 million.
The third series of Call the Midwife was followed by a new BBC adaptation of The Musketeers, which was seen by an average of 7.4 million viewers.
Worth's blessing
The Call the Midwife Christmas special was the seventh most-watched programme over the festive period, with an audience of 7.1 million.
Set in east London in the 1950s, screenwriter and executive producer Heidi Thomas used a trilogy of accounts by the late midwife and writer Jennifer Worth for the first two series.
Thomas received Worth's blessing to continue into series three, even though the memoirs had run out of material by the end of series two.
Thomas's husband Stephen McGann stars in the show alongside Jessica Raine, Miranda Hart and Jenny Agutter.