Steve Coogan and Rob Brydon reunite for Italian job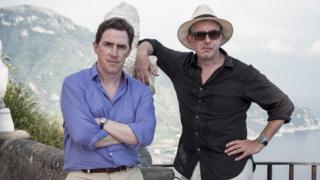 Three years on from 2010's The Trip, Steve Coogan and Rob Brydon have reunited with director Michael Winterbottom for a sequel The Trip to Italy. According to Coogan, "it's exactly the same but sunnier."
The original BBC TV series saw them eating and bickering their way across the north of England. It became a worldwide hit and spawned a spin-off feature film based on its highlights.
Now Coogan, Brydon and Winterbottom have taken The Trip to Italy to the Sundance Film Festival in Utah for its world premiere.
The two-hour film and accompanying TV series see the comedians once again eating and bickering as they travel in a Mini convertible - a reference to The Italian Job - across the sun-soaked vineyards of Liguria down to the breathtaking cliffs of the Amalfi coastline.
"Nothing much happens in this one either," says Coogan. "In fact it's exactly the same as the first Trip, but it's sunnier. You could go and see the first one again in fact. I'm not doing a good job of selling this, am I?"
Just like the first Trip, where the actors played fictionalised versions of themselves, The Trip to Italy has them embark on a gastronomic tour for the Observer newspaper.
Instead of the Lakes and Dales in winter, though, the action now unfolds amid the sweltering heat of an Italian summer.
Coogan and Brydon once again argue and improvise the script over lengthy meals, mimic other actors - Sir Michael Caine, Tom Hardy, Christian Bale, Hugh Grant and Robert De Niro are all made fun of - and quote poetry at each other.
"We spouted a lot of Wordsworth last time," Coogan recalls. "This time Michael asked us to follow in the footsteps of Shelley and Byron, the Romantic poets who of course settled in Italy, so we visit the places they lived in.
"It's a very loose homage, however. We get distracted easily. We just end up eating a lot."
'Very liberating'
Although the first TV series was a huge success, Coogan, 48, says that Winterbottom initially had to persuade them to do both journeys.
"Michael, Rob and I worked together on [2005's] A Cock and Bull Story where we played these characters as ourselves, and then he came to us with the idea for the first trip," the actor explains,
"It was only halfway through filming the series that I thought there was something special about it. It felt very original.
"Then Michael came up with the idea for filming a second one in Italy. This is the fifth time we've worked together, and I suppose I see him as a brother.
"A much older brother, of course. But we're like family. I said I'd do it because the improvisation is very liberating to do."
Once again, Coogan continues, the plot "had no script. It would just be a couple of lines scribbled down for each scene as to where it was meant to go.
"So we would just start talking to each other, and then Michael would nudge us saying, 'That's good, develop it some more', or 'Don't be so nasty to each other'.
"To be honest, even if Michael would have given us a script, I wouldn't have bothered learning it. Because every morning we'd have breakfast and he'd say, 'This is what I've written down, but let's not do that. Let's do something more interesting.'
"I'm pleased with the result. We don't take anything too seriously, and this one just descends into juvenile, adolescent behaviour from Rob and I. It was all very enjoyable and non-pressurised.
"As I said, I wasn't too sure about it all at first but there's a certain charm to it. The scenery is fantastic and it does have a real 'La Dolce Vita' feel about it."
'Spectacular' onion
Winterbottom, 52, previously made 2008 drama Genova in Italy and is currently shooting The Face of an Angel in Tuscany. The film is inspired by the story of Amanda Knox, the US student who was accused of murdering UK student Meredith Kercher in Perugia in 2007.
The cuisine, the director confesses, was a major factor in choosing Italy again as the location for the Trip sequel.
Coogan and Brydon eat mountains of pasta and meat in the north of the country, before gorging themselves on seafood as they travel down towards Naples and Capri.
"I put on eight pounds when we filmed the first series, and I did try and restrain myself in this one," says Brydon. "It's not so hard during these lunches when we're filming, because actually I'm trying to concentrate on being funny and keeping the dialogue going.
"But when we were off duty, we had some fantastic dinners. We've gorged ourselves in some of Italy's best restaurants. All the meals blur into one, but I can tell you that I had a stuffed onion in the North that was spectacular."
"We went for a couple of runs and did a few sit-ups, but it was all very half-hearted," Coogan recalls. "These meals last for up to four hours, while we are doing re-takes, or shooting the food from different angles.
"So they keep bringing out the meals, and we would wolf it all down because it's so delicious. Then they'd bring some more out and we'd have to eat it again. This film will make you ravenous."
Having recently been Oscar-nominated for his Philomena screenplay, Coogan is currently riding high in critical estimation. In The Trip to Italy, though, his jealousy is sparked when Rob is offered a part in a Michael Mann mob film as a mafia accountant.
"We rub along okay in reality," Brydon says. "We spent a month filming this so we spent a lot of time together.
"We had the odd cross word but Steve is actually a very good travelling companion. We actually bonded on this one a lot more than we did on the first Trip.
"I haven't spoken to him here of course at Sundance," Brydon continues -with tongue firmly in cheek. "The reality is since the Oscar nomination, we all have to go through his assistant to have time with him. It's heartbreaking."
The Sundance Film Festival continues until 26 January. The Trip to Italy TV series will be broadcast later this year.