Whiplash celebrates double win at Sundance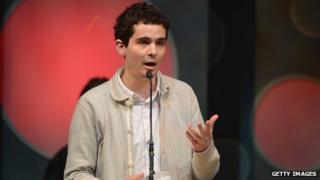 Drummer drama Whiplash has won the grand jury prize and the audience award at US film festival Sundance.
The opening night film, about an obsessive jazz drummer, has now been bought by Sony Picture Classics, which will bring it to a wider audience.
Rich Hill, about a group of teenagers living in a deprived area of rural America, won the documentary prize.
Sundance is the US's leading indie film festival, backed by Robert Redford's institute of the same name.
Whiplash's writer and director, Damien Chazelle, won the US fiction short film grand jury prize last year at Sundance for his original short version of Whiplash.
The 28-year-old then expanded his short to make it into a feature film for this year's festival.
"I remember my first time here was with a short, and the whole reason we made a short was because of my experiences as a drummer," Chazelle said.
"No-one wanted to finance the film because no-one wants to make a film about a jazz drummer - surprising," he jokily added.
Rich Hill co-director Tracy Droz Tragos dedicated the win to the film's subjects.
"This is a small film but it's got a big heart and we dedicate it to the families of Rich Hill, Missouri, and the families in this film: the three boys and their families who were so brave and so lovely to let us into their lives and to trust us and reveal some stuff that was so tough."
The US documentary audience award went to Alive Inside: A Story of Music & Memory, which explores the effect of music on elderly patients suffering from Alzheimer's disease.
The annual film festival, now in its 30th year, opened on 16 January in Park City, Utah, and will close on Sunday.
Other awards given out on Saturday included the short film audience prize, sponsored by YouTube and based on the number of online hits each entry had. This year's prize went to Chapel Perilous, a comedy about a man who is visited by a salesman with nothing to sell.
Previous Sundance winners include 2010's Winter's Bone and 2012's Beasts of the Southern Wild, which both went on to garner Oscar nominations.