Justin Bieber court date set for Valentine's Day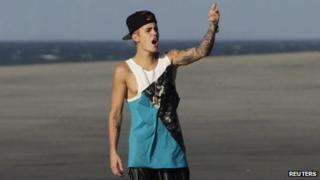 Singer Justin Bieber is to be arraigned on 14 February on charges of driving under the influence, resisting arrest and driving with an expired licence.
The 19-year-old does not have to attend the Valentine's Day court date, where prosecutors will formally file charges and a plea will be entered.
Bieber was arrested last week in Miami Beach for participating in what police called an illegal street drag race.
The pop star was released from custody after posting bail of $2,500 (£1,500).
Bieber will have his case seen by Judge William Altfield of the Miami-Dade County Criminal Division on 14 February.
The Canadian singer appeared in court last week via video link and has since been seen on holiday in Panama.
It is claimed the star had been racing a yellow Lamborghini against a red Ferrari in the early hours of Thursday.
R&B singer Khalil Sharieff, the driver of the other car, was also arrested after being reportedly found to be under the influence of alcohol and drugs.