BBC iPlayer requests up by a third in 2013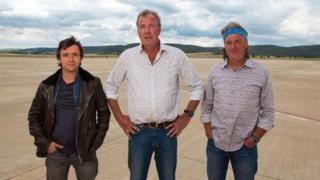 BBC iPlayer recorded a record 3 billion requests in 2013, up 33% on 2012, with Top Gear the most popular show.
Fronted by Jeremy Clarkson, the show made up 10 of the top 20 most requested programmes, with 3.4 million requests for part one of its Africa Special.
Doctor Who was the second most popular show with 3.1 million requests for the 50th anniversary special.
Series two of Jack Whitehall's BBC Three comedy Bad Education premiered on iPlayer, with 2.9 million requests.
Miranda, The Voice UK and nature documentary Africa also made the top 20, along with the animated film Madagascar, as the online catch-up service recorded a total of 2.2 billion requests for BBC TV shows and 800 million for radio.
Cricket helped make sure live sports coverage dominated the top radio programmes in 2013, with England's Ashes triumph proving hugely popular - Test Match Special made up 19 of the radio top 20.
The BBC said 2014 would see a move towards the type of exclusive content the iPlayer featured in 2013, following the success of 'mini-sodes' for Sherlock (Many Happy Returns) and Doctor Who (The Night Of The Doctor), which were seen by millions.
BBC Three's Bad Education was just one of the shows to premiere on iPlayer and head of TV content, Victoria Jaye said they were "delighted by the audience response" to both types of exclusive content.
"We've begun the journey to transform iPlayer from a TV catch-up service into an online TV destination in its own right," she said.
"As we move into 2014, we will originate more exclusive programmes for iPlayer, as well as offer an ambitious range of content to complement our biggest brands and events."
Last year saw a rapid growth in mobile and tablet viewing, with tablet requests alone up by 104% and programmes accessed on more than 1,000 different devices.
December proved a bumper month for iPlayer, with 271 million requests for TV and radio programmes.
Mobile and tablet requests overtook PCs for the first time over Christmas, as the audience moved away from their desks and used the iPlayer app to watch content on tablets and phones.
Downloads of the mobile app passed the 20 million mark, with 942,000 of those taking place over the festive period alone.
However PCs were still the biggest single platform for requests in 2013, making up an average of 43%.