Ride Along continues US film chart reign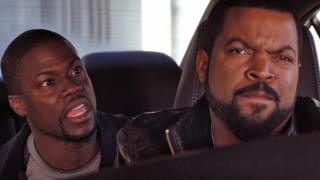 Buddy cop comedy Ride Along has held on to the top spot in the North American box office for a third consecutive week.
The film, starring Kevin Hart and rapper Ice Cube, took $12.3m (£7.5m) over the Super Bowl weekend, bringing its total domestic haul to $93m (£57m).
Disney animation Frozen climbed back up the chart to two, benefitting from the release of a sing-along version.
The film has now taken more than $360m (£220m) in the US over 11 weeks.
Frozen is now the fourth highest-grossing animated release in the US.
Its soundtrack is currently number one in the Billboard 200, while its signature track Let It Go - sung by Idina Menzel - has been nominated for a best song Oscar, with the film itself up for best animated feature.
Zac Efron chick flick That Awkward Moment opened at number three earning $9m (£5.5m).
Marketed heavily to women who might not be interested in the Super Bowl, the film was generally panned by critics with the New York Times' Stephen Holden calling it a "vile, witless sex comedy".
Animated squirrel comedy The Nut Job fell one place to four, while Mark Wahlberg's Afghanistan war drama Lone Survivor slipped three places to number five.
The only other entry in the top 10 was Labor Day at seven.
Starring Kate Winslet and Josh Brolin, the drama is an adaption of Joyce Maynard's novel of the same name about an escaped convict who takes refuge in the home of a depressed single mother.
Next weekend's release of 3D animation The Lego Movie is expected to knock Ride Along from the top spot.