Marvin Gaye passport found by collector in album sleeve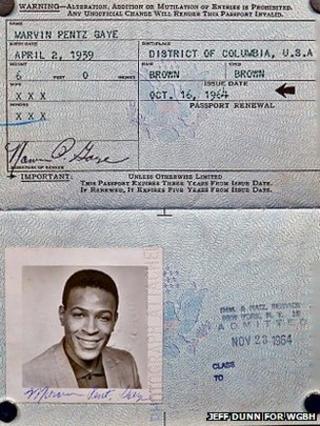 A US music collector has uncovered the 1964 passport of Motown legend Marvin Gaye after it fell out of the sleeve of an album he bought at an estate sale.
The Detroit man shared his find, which was valued at $20,000 (£12,275), on an edition of the US Antiques Roadshow.
He said he paid 50 cents for the album from the sale of possessions belonging to a late musician in the city.
Programme expert Laura Woolley said how exactly Gaye's passport ended up in a record sleeve would never be known.
She added the album belonged to another musician, so it could be assumed that he had worked with Gaye at some point.
Woolley noted that Gaye's surname had already had an 'e' added to it, which happened after the singer was signed to Motown Records as a solo artist.
She also said that the document, a highly personal item, contained Gaye's signature, adding to its worth.
It also contains evidence that he was travelling abroad as his career began to take off.
The owner of the document, when told of how much he would need to insure it for, said: "Are you kidding me? I never would have thought. I mean, I'm just shocked. I mean... wow. Oh gosh, thank you."
Woolley replied that Gaye memorabilia rarely comes onto the market.
The star, whose hits include Sexual Healing and How Sweet It Is (To be Loved By You), was shot dead by his father in 1984.
His family has recently been involved in legal disputes with singer Robin Thicke and his record label, claiming his hit Blurred Lines infringed the copyright of a Marvin Gaye track.
A case against record label Sony/ATV has been settled, while the case with Thicke remains ongoing.