Mr Peabody & Sherman trumps Robocop at UK box office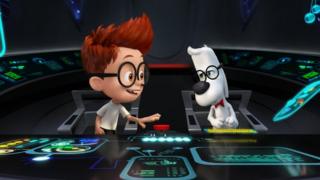 Animated revival Mr Peabody & Sherman has beaten the return of Robocop at the UK box office.
The Dreamworks cartoon, about a super-intelligent dog and his pet boy, made its debut at number one with total takings of £3.9m.
Robocop was eclipsed in second spot with an opening haul of £2.4m.
Academy Awards contender Dallas Buyers Club entered the box office chart for the first time at four with a little over £1m.
Another film in the running for Oscars glory on 2 March, 12 Years a Slave, rounded out the top five in its fifth week of release.
American Hustle, a leading awards hopeful, also remained just inside the top 10, while Martin Scorsese's former chart topper The Wolf of Wall Street was at three.
Disney's Frozen, seen as a likely bet to take the Oscar for best animated feature, remained in the rundown for a 10th week in a row.
The film has now amassed more than £37m during its long run.
The only other new entry at 10 was a live performance of Rusalka by New York's Metropolitan Opera, which was screened in cinemas and made £277,460.
The characters of Peabody and Sherman first made an appearance in 1959 as part of cartoon show Rocky and his Friends.
The animation is not due to be released in the US until 7 March.
Robocop was originally made in 1987, and the revival features Gary Oldman and Michael Keaton.