Spike Jonze delivers an unusual romcom for Valentine's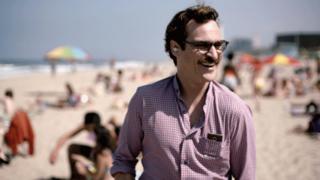 Spike Jonze's latest film Her is not a typical romcom, but the decision to postpone its release date to coincide with Valentine's day in the UK is fitting.
Starring Joaquin Phoenix, Scarlett Johansson and Amy Adams, it's arguably one of the most clever and tender explorations of love on screen since Eternal Sunshine of the Spotless Mind (2004).
Set in Los Angeles in the not-so-distant future, it tells the story of a lonely, recently single Theodore Twombly (Phoenix), who falls in love with his new Siri-like computer operating system, Samantha, voiced by Johansson.
"It seemed like a fun idea and an interesting concept," says Jonze, when it's suggested that falling for a computer system is one of the more bizarre themes for a film about love and relationships.
Before Siri
When Jonze started writing Her, Siri - Apple's iPhone voice-powered search engine - hadn't been invented.
"It was one was one of those ideas that I have on a file on my computer that I never open again, until I realised I could actually write about relationships and make it a love story," said Jonze.
"I knew I could write infinitely about relationships. That's the most beautiful, most confusing, most rewarding, most heartbreaking thing in our lives - and not just romantic relationships, that's all relationships.
"That seemed like a really exciting potential for a movie. It turned from a cool concept into a very inspiring, meaningful idea to write about."
Following collaborations with writer Charlie Kaufman (who also penned Eternal Sunshine of a Spotless Mind) on Being John Malkovich and Adaptation, Her is Jonze's first solo project.
It's already been given the thumbs up by critics, winning a Golden Globe for best screenplay and getting five Oscar nods, including best picture.
Jonze is modest about its success and the acclaim that's been afforded to him.
"I feel insanely fortunate about the way this movie came together. I gave it to Megan Ellison, our financer, and she said 'I'm in' and I gave it to Warner Bros to see if they'd distribute it and they said they we're in. It was amazing.
"I feel like the script had something that attracted everyone to it and that's something that I'm really proud of and happy with and grateful that everybody did like it.
"I've had other situations when things didn't come together like that, so I know how rare it is when it all falls into place."
Jonze doesn't say, but he is perhaps referring to his last film project, an adaptation of Maurice Sendak's children's classic Where the Wild Things Are, which was dogged by delays and other complications.
He also notes that while so many elements in making Her fell into place easily, the film was by no means a walk in the park.
"Creatively, it was a really hard, challenging movie, says Jonze, adding: "Trying to get where we were going - emotionally - every day, was a challenge.
"It's a relationship movie and each exchange between the characters is so loaded. Especially in a romantic relationship, when there's so much projection being put on every word and feelings can get hurt in the slightest and subtlest of ways.
"We wanted to make sure we didn't gloss over anything."
Only a voice
The challenge of capturing the unique rapport and companionship between Theodore and Samantha was exasperated by the fact that we never see Samantha and witness her body language or facial expressions.
She remains only a voice throughout the film, an image in Theodore's mind.
"It's an abstract thing. We had to figure out how to make them both alive and make Samantha fully realised without ever seeing her face.
"Figuring out how to communicate when Samantha's feeling were hurt, for example, was difficult," adds Jonze.
"Sometimes we didn't realise why a particular scene didn't work. So we played about with different scenarios and realised that in the silence is where you get to feel her feelings being hurt.
"Sometimes it was just about giving Samantha more time to answer something.
Shot by cinematographer Hoyte Van Hoytema (Tinker Tailor Soldier Spy), visually, the film is a beautiful piece of art.
Theodore's working and living environment is tasteful with smooth, clean lines.
Everything is deliberately coloured in soft hues to support a world that is never threatening but instead based on comfort and ease.
Detached from society
And yet, Theodore remains a lonely man who is detached from society. You can never quite shake the uncomfortable feeling that he's just like a lost puppy who'll never find true happiness.
"I wanted to portray this idea of making a world, which had this utopian feeling of everything being comfortable and nice and warm," says Jonze.
"Much like our world now, everything is easy, everything is fast. There's great food, great coffee.
"The world is becoming nicer and easier but that doesn't mean we are any less lonely or any more connected.
"That was the world I wanted to create for Theodore and if Theodore is lonely in that setting, it hurts even more. He should be happy but he's not, so what's wrong with him?"
Few actors could capture that sense of detachment and vulnerability as acutely as Phoenix, who is used to playing characters rife with inner turmoil (Parenthood, Walk the Line, The Master).
"There wasn't many people I could think of that are that alive on screen. But I didn't know what he'd be like as this character," admits Jonze.
"I'd never seen him act exactly this sort of character before, in terms of the joy and playfulness and openness of Theodore."
Jonze personally delivered the script to Phoenix at his home in Los Angeles while he was in rehearsals for The Master.
"There was something really nice about that - giving an actor who I really respect this thing I made.
"After the first five minutes of talking to him I thought 'there's no one else I want to see in this movie'," says Jonze.
"He said it might take me some time to read it because my head is in this other thing. It was 10 o'clock at night and then I woke up in the morning and there was this four-page text from him saying I loved it and I'm in, whatever you want from me'."
Phoenix certainly gave his all. His performance is compelling and he allows the audience to read Her in many different ways.
One could see it as a cautionary tale: To stop looking to the internet for escape. Put down the phone, take time out from Instagram, Facebook and Twitter and connect with people through traditional means, not modern technology. Was that Jonze's intention?
"No, I don't think so. I think this film is whatever you want it to be. I want to leave the movie with people and let them have their own experience with it."