Baftas 2014: Certainties, surprises and Oscar predictions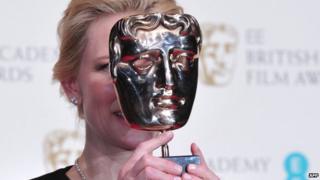 This year's Baftas may not have had any big shocks, but there were enough surprises to make the Oscar ceremony in two weeks' time look like it might have a few twists in store.
The final round of Oscar balloting opened on Friday and runs to 25 February, so the Bafta results come at a crucial time.
All the way through this year's film awards season, three films have jostled for pole position.
On Sunday night, 12 Years a Slave, Gravity and American Hustle all emerged with reasons to be cheerful.
Gravity's six awards - outstanding British film, original music, cinematography, sound and special visual effects with Alfonso Cuaron winning for director - was an impressive haul.
It's also notable for being the first 3D film to win one of the major Bafta film categories (both Avatar and Life of Pi were beaten to the prize in previous years).
The space thriller, which stars US actors Sandra Bullock and George Clooney, has sparked controversy over its classification as a British film.
It was developed and shot in the UK, with a British producer - David Heyman - and with ground-breaking visual effects by a UK-based team.
Interestingly, Mexican director Cuaron queried during a backstage interview the whole concept of a best British film category.
"It should be best film and best non-British film," he said to sounds of surprise from the assembled journalists.
The biggest prize of the night went to harrowing historical drama 12 Years a Slave, which won best film and the leading actor prize for Chiwetel Ejiofor.
However, the sweep of the major categories that some had predicted failed to materialise.
On stage, director Steve McQueen reminded the ceremony's audience that slavery was not a thing of the past.
"There are 21 million people in slavery as we sit here," he said. "I just hope 150 years from now our ambivalence will not allow another filmmaker to make this film."
Holding his Bafta mask backstage, McQueen recalled how he had watched the Baftas on TV as a child and travelled past Ealing Film Studios on his way to school.
"To have this in my hands... it means a hell of a lot," he said.
Brad Pitt, who both produced and starred in the film, said: "It's a story that says we're all the same and that freedom and our dignity is everything and that's what we must fight for."
Earlier, Pitt and Angelina Jolie had prompted the loudest screams of the night from hundreds of fans as they walked the red carpet.
The biggest surprises of the night came in the supporting acting categories.
Somali-born Barkhad Abdi beat off competition from 12 Years' Michael Fassbender (the bookies' favourite) to win best supporting actor for his impressive movie debut in Captain Phillips.
Jennifer Lawrence's victory as best supporting actress for her memorable turn in American Hustle toppled the hopes of favourite Lupita Nyong'o, from 12 Years a Slave.
Lawrence gave David O Russell's film one of its three awards of the night, along with original screenplay and make-up and hair.
Russell later praised Lawrence as "fearless".
He said: "From one angle she's like a regular girl from Kentucky, and from another she's like the most magical, beautiful creature you've ever seen."
The American director wasn't the only one being poetic on Sunday night.
Dame Helen Mirren, who was honoured with a Bafta fellowship presented by the Duke of Cambridge, quoted Prospero's speech from Shakespeare's The Tempest: "We are such stuff as dreams are made on and our little life is rounded with a sleep."
She added: "My little life is rounded with this honour, thank you very much indeed."
Meanwhile, director Peter Greenaway, recognised for his outstanding contribution to British cinema for films such as The Cook, The Thief, His Wife and Her Lover, recalled how at the age of 13 he had wanted to be a painter.
"In a curious way my ambition has failed," he admitted backstage. "I've ended up a filmmaker instead. It's been enjoyable, a pleasant way to pass a life and career."
He added: "I always think that cinema was not invented by Lumiere or Melies but was invented in the early 17th Century by four painters: Velazquez, Caravaggio, Rubens and Rembrandt - and I would have loved to have been of their company."
Oscar watch
So what do the Bafta results mean for the Academy Awards on 2 March?
For the past five years the best film winner chosen by British Academy voters has gone on to win an Oscar. Last year it was Argo, and before that The Artist, The King's Speech, The Hurt Locker and Slumdog Millionaire.
But the Baftas are international awards with a distinctly local flavour, and it's estimated that only about 20% of the US Academy is made up of Brits.
Chiwetel Ejiofor and Barkhad Abdi may have won in London but they did not have to face competition from Oscar favourites Matthew McConaughey and Jared Leto - from Dallas Buyers Club - both of whom were ignored in the Bafta nominations.
And it will be interesting to see if Steve Coogan and Jeff Pope are able to replicate their Bafta win for their adapted screenplay for the film Philomena away from a home crowd.
Asked what he thought about his Oscar chances, Steve McQueen said: "It's about the celebrating the film rather than the competition."
Roll on 2 March.