Dame Helen Mirren voices support for National Youth Theatre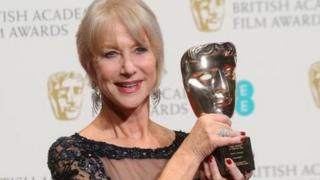 Dame Helen Mirren has called for support for the National Youth Theatre, describing it as "incredibly important" for aspiring actors from working class backgrounds.
The star said the NYT was her "way in" to the profession as her family "didn't have money to send me to drama school".
Dame Helen was speaking after being honoured with a Bafta Fellowship award.
She is the latest star to voice concerns that only those with wealthy parents will be able to go into acting.
"The National Youth Theatre at this moment in time is incredibly important because the way my business is going, it's the prerogative only of kids who have got money," she said.
"It's very difficult for working class kids to get into the theatre," added Dame Helen.
The NYT is a charity that offers free training to young people hoping to make a career of acting or working behind the scenes in the theatre.
Last year it awarded nearly £90,000 to young people via hardship bursaries, and set up the NYT Rep Company, a free eight-month talent development scheme which culminated in a run of three plays in the West End.
Other famous alumni include Daniel Craig, Matt Lucas, Matt Smith and Chiwetel Ejiofor, who picked up best actor for 12 Years a Slave at Sunday night's Bafta ceremony.
Aged 18, Ejiofor was spotted by a scout for Steven Spielberg in an NYT production of Othello. The director later cast him in the 1997 film Amistad.
Recent Doctor Who star Matt Smith has said he got an agent as a result of the shows he performed with the theatre, adding: "I think it is the reason I am an actor."
This week, actress Maxine Peake voiced her worries about a lack of funding for working-class actors during a piece on BBC Radio 4's Today programme about the Royal Academy of Dramatic Art (Rada).
"I am concerned with the climate we're in now. It was difficult for me, I got a scholarship to go to drama school, I'm pretty frightened about the future now for people," Peake told presenter James Naughtie.
"Rada still has the means to put the people through that it wants to but [for] other drama schools, it's pretty impossible."
Peake added: "If people can't afford to go to drama school, where will we get those skills? Especially stagecraft, I just hope that doesn't become a dying art."
David Morrissey, Stephen McGann and Julie Walters have also spoken out about class and financial barriers for those wanting to go into the profession.
Walters said in an interview with The Sunday Times Magazine that the scales were weighted against young people from poorer families.
"Back then, it was still possible for a working-class kid like me to study drama because I got a grant, but the way things are now, there aren't going to be any working-class actors," said Walters.
"I look at almost all the up-and-coming names and they're from the posh schools."