Woodcutter's collection of Ivon Hitchens art on show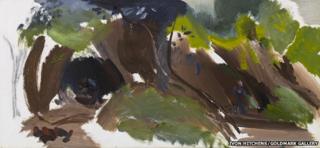 Paintings and drawings given by artist Ivon Hitchens to a forestry worker who became his assistant and model are to go on show for the first time.
Hitchens, one of the leading British landscape artists of the 20th Century, gave 10 paintings to Ted Floate in return for his help in the studio.
The pair were friends for 23 years until the artist died in 1979.
Mr Floate, 85, is now selling the collection, which is valued at £1m by the Goldmark Gallery in Leicestershire.
The extent of his collection was not known to anyone other than close family and friends, until he was forced to move and no longer had space to hang them.
In the loft
They had previously hung in bedrooms, the hall and living room of his home. "They were all over the house," said Mr Floate.
"One or two were confined to the loft because I didn't have room to put them all up properly.
"The first painting he gave me was when I moved house as a parting gift. After that if I saw a painting that I liked, I would perhaps say to him it was nice, and at Christmas or on my birthday there would be a little parcel."
The first time Mr Floate met Hitchens, the pair got into an argument because the artist put out a fire Mr Floate had lit in a forest near Hitchens' Sussex home in 1958.
But the pair became friends and Mr Floate would help the artist stretching canvases, hanging paintings and occasionally acting as his model.
Mr Floate said "one or two" of his paintings had been exhibited at the Pallant House gallery in Chichester 20 years ago but the others had not previously left his house.
Hitchens was made a CBE in 1958 and had a retrospective at the Tate gallery to mark his 70th birthday in 1963. One of his paintings fetched a record price of £250,000 at auction last year.
Art dealer Jeremy Green said: "I was amazed to find all these paintings in a woodcutter's bungalow. The collection was known by a few people who were close to Ted and Ivon.
"Ivon Hitchens didn't give all his best paintings to Ted - he tried to sell those - but he was a very generous man. Ted and Ivon were very close friends."
The exhibition opens on 15 March.