Brit Awards viewing figures decline despite live stream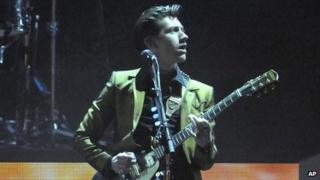 Last week's Brit Awards ceremony failed to top the show's 2013 viewing figures, despite the introduction of a live stream on YouTube which was available to watch around the world.
Overseas viewers accessed the online broadcast 1.8 million times, while 4.6 million saw ITV's live UK broadcast.
Last year's ceremony, also hosted by James Corden, was watched by 6.5 million people on ITV.
This year saw a push to raise the Brit Awards' profile globally.
Three quarters of views on the Brits' YouTube channel came from outside the UK, with the figures up by a fifth on last year at 15.7 million since promotion began in November.
The YouTube figures count "stream activations" rather than individuals, so may also include viewers trying to activate the show more than once during the broadcast.
Brits organisers said that the number of views received since the ceremony on 19 February were double last year's figures, at 7.5 million.
The 1.8 million live viewers, however, falls far short of a record set in 2009 by Irish group U2, whose live two and a half hour show from the Rose Bowl in California attracted 10 million viewers from 16 countries.
This year also saw the introduction of a new Twitter vote in the best video category, won by One Direction's Best Song Ever.
Two million tweets were received during the show as fans cast their votes, while the ITV broadcast became the most tweeted about UK TV show ever, with more than four million tweets about the ceremony at London's O2.
"The response from fans across those platforms has been extremely positive and underscores the enduring appeal of the Brits experience as it continues to evolve with its audience," said Chairman of the Brits committee, Christian Tattersfield.
Both Arctic Monkeys and One Direction picked up two awards on the night, while David Bowie and Ellie Goulding were named best British male and female artist respectively.