Michael Le Vell to take a break from Coronation Street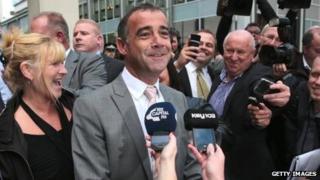 Coronation Street star Michael Le Vell is to take a break from the show to get help for "personal issues" ITV has confirmed.
Le Vell, who plays mechanic Kevin Webster in the soap, is said to be seeking "professional help", after he admitted to using cocaine.
He only recently returned to filming after being cleared of child sex offences in September last year.
The actor has starred in Coronation Street for more than 30 years.
In episodes which have already been recorded, Le Vell will return to screens from late March and will then feature in scenes for around another six weeks.
It is thought he will be written out of subsequent plotlines.
"Coronation Street and Michael Le Vell have mutually agreed that he will take a break from the programme whilst he seeks professional help for personal issues," an ITV spokeswoman said.
The 49-year-old actor was found not guilty of 12 child sex offences following a four-week trial at Manchester Crown Court,
During the trial, Le Vell's private life was scrutinised and he admitted to being an alcoholic who had cheated on his wife several times.
Last weekend's Sunday Mirror featured an admission from the actor he had snorted cocaine in the run-up to the trial.
He told the newspaper he was "ashamed" of his behaviour.
"I've always been dead against drugs and have turned them down in the past. I've seen what they can do to people," he said.
"But I had never felt so low. I knew I was innocent but everything was closing in on me."