Film4 boss Tessa Ross to join National Theatre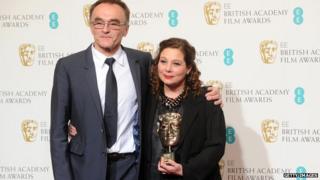 Channel 4 and Film4's Tessa Ross, one of Britain's most powerful film and TV executives, is leaving to become the National Theatre's new chief executive.
As Channel 4's controller of film and drama, Ross ran Film4 and produced such Oscar-winning movies as Slumdog Millionaire and 12 Years a Slave.
She will formally take up her new post when Rufus Norris joins the National as artistic director in April 2015.
Ross was honoured by Bafta with an outstanding contribution award in 2013.
She was presented with the accolade by Slumdog director Danny Boyle, who described her as "the Paul Scholes of the British film industry" in his introduction.
He said Ross was a "shy genius" whose "incredible effort, determination and belief are why our industry continues to thrive".
The board of the National Theatre said it was "delighted" to announce her appointment, adding: "Tessa's international experience and reputation as a producer and executive need no introduction."
The theatre's current executive director Nick Starr will leave in August and artistic director Nicholas Hytner will depart next April.
Ross said she was "incredibly excited" about her new job, calling the National "one of our most iconic and significant cultural institutions and a place that I've loved since I was very young."
Ross, who served on the board of the theatre from 2011-14, continued: "Under Nicholas Hytner and Nick Starr's leadership, it's been an exceptional and inspiring home for the theatrical and creative communities, and I'm privileged to be working with Rufus to build its next chapter."
Since joining Channel 4 in 2000 and becoming head of Film4 in 2003, Ross has commissioned films including The Last King of Scotland, This is England, Shame and The Iron Lady.
She has also backed The Selfish Giant, Four Lions, Another Year, Submarine, Tyrannosaur and Under the Skin, which stars Scarlett Johannsson and is currently in cinemas.
Rufus Norris said he was "thrilled and honoured" that Ross would be his "partner".
"She is an extraordinary woman: a world-class producer, a tireless supporter and promoter of both emerging and established artists, a great manager and businesswoman," he said.
"She empowers and encourages people to their best work."
While working at Channel 4, Ross also commissioned award-winning dramas including hit series Shameless and Sex Traffic.
She was appointed a CBE in the 2010 New Year Honours for services to broadcasting.
On the Film4 blog, Channel 4 chief executive David Abraham said: "Tessa has made as big a contribution to Channel 4 as anyone in its history.
"I would like to personally thank her for her extraordinary commitment, talent and leadership over 13 remarkable years."
He added that she left "big shoes to fill" in one of the most coveted jobs in film, but said they intended to build "on the extraordinary reputation Tessa has created".