James Corden backs BBC Three move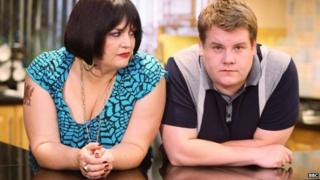 Gavin and Stacey star James Corden has said he supports the closure of BBC Three as an on-air channel.
The actor, whose series started life on BBC Three, said the channel would find a natural home on the iPlayer.
"It should always be at the forefront of what is fresh and exciting, and therefore it should be the first channel to exist online," he said.
The BBC has said the move, which will see BBC Three's programme budget cut from £85m to £25m, would save millions.
Director general Tony Hall called the plan "financially necessary" and said £30m of the savings would be reinvested in BBC One drama.
BBC Three will continue to have a home on the iPlayer, with some of its programmes aired later on the corporation's main TV channels.
Fans of the channel are displeased, however, with more than 225,000 signing an online petition to save the channel.
BBC Three in numbers
Weekly audience
29%
of all 16 to
34-year-olds
Cost

£85m on programmes

6.6p per hour for each viewer
Speaking at a Guardian event in London, Corden admitted he was in "a minority" who supported the closure.
He went on to explain: "If they were saying, 'We're closing BBC Three and this avenue is closed to new writers and creators', then I would be as outraged as people are about it [not] being on TV.
"Providing they still invest and it's still a commitment to make new and interesting shows, then [BBC Three's] audience will find them in the same way you and I enjoy [Netflix show] House of Cards. That's how people are consuming their TV now.
"People say: 'Oh, but would you be happy for your show to go on BBC Three if it was just online?' If I was sat here telling you I had just signed a huge deal with Netflix you'd be going: 'Wow, that's amazing.'"
Asked about his own start on the channel, the actor replied: "The truth is, I don't know if Gavin and Stacey would be commissioned by BBC Three today.
"The channel has changed. It was 2007 that we made that show. It has a much younger outlook."
Danny Cohen, the BBC's director of television, has admitted the closure of BBC Three could be a risky strategy, as online viewing still only counts for a small percentage of the BBC's audience.
"Given an entirely free hand, I would make this change in about four or five years' time, using the years between now and then to slowly shift the balance between linear and on-demand BBC Three content," he said last month.