Dirty Rotten Scoundrels 'entertains' critics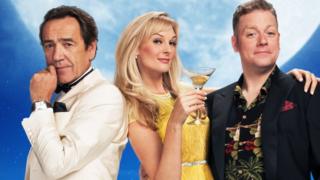 New West End musical Dirty Rotten Scoundrels has won over many of the nation's critics, with one branding it "entertaining and slickly staged".
Several reviews praised stars Robert Lindsay and Rufus Hound - who play two conmen competing on the French Riviera - and newcomer Katherine Kingsley.
The Guardian called it "highly pleasurable... escapist fantasy".
But the musical was given just two stars by the Financial Times for taking "the silliness too far".
"This is like a Muppet rendition of the comparatively mature, subtle film version," said the newspaper's Ian Shuttleworth, who called it "a relentless overplayed musical".
In contrast, the Daily Telegraph's Charles Spencer gave the "highly entertaining" production at London's Savoy Theatre a positive four stars.
"It seems churlish to grumble when so much of this show, with its entertaining book by Jeffrey Lane, hits the mark," he wrote in his review.
The Times' critic gave the "likeable comedy musical" three stars and called it "good fun", before adding: "Played with even more conviction it could be great fun."
Another three star review came from The Independent, whose writer, John Nathan, said Lindsay's performance was "big on charisma and light on charm".
Yet he said there was "a sense here of the creators... doing something more interesting than offering film fans a nostalgia trip" - unlike the "largely pointless" Fatal Attraction, another stage show based on a film currently playing in London.
'Theatrical masterclass'
The Guardian's Michael Billington gave the musical - first staged in the US in 2004 - four stars while saying it was "not a cutting-edge show".
"It is," he wrote, "a prime, and highly pleasurable, example of the musical as escapist fantasy and source of fun."
"Subtle it isn't," he went on. "It's not a show that extends the boundaries of the form, but one that simply, and happily, takes us back to the all-but-lost era of musical comedy."
Billington also singled out Lindsay as "a composite of the Rat Pack" in the show's opening number.
"Watching him do a soft-shoe shuffle and sing like Sinatra while elegantly tipping his hat is to witness a masterclass in theatrical style," agreed the Telegraph's man in the stalls.
He said there was "a fizzing on-stage chemistry" between Lindsay's "suave and practised deceiver... and Rufus Hound's oafish interloper."
There was also praise for Katherine Kingsley in her role as Christine Colgate, the glamorous American whom Lindsay and Hound's characters attempt to con.
The actress, according to The Times, "nicks the show from under their noses" and "sings with effortless power". "It's almost worth seeing the show for her alone," continues reviewer Dominic Maxwell.