Katherine Rundell wins Waterstones Children's Book Prize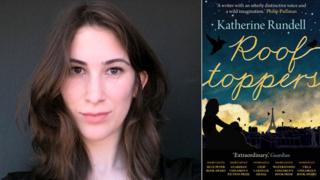 A novel about a young girl in Paris who finds a new life among its rooftops has been crowned the winner of this year's Waterstones Children's Book Prize.
Rooftoppers by Katherine Rundell was awarded the £5,000 prize by the UK book chain's staff at a ceremony in London marking the award's 10th birthday.
Rundell's book, adjudged this year's best fiction title for 5-12s, beat two other titles, voted best picture book and best book for teens respectively.
Both runner-up authors received £2,000.
According to organisers, self-taught tightrope walker Rundell drew on her own university experiences of moonlighting on the rooftops of Oxford's colleges while writing Rooftoppers.
Her novel was shortlisted for last year's Guardian children's fiction prize and was named best story last month at the Blue Peter Book Awards.
Rundell's book, her second, is one of eight in contention for the Carnegie Medal, an annual prize for children's fiction that will be awarded this year on 23 June.
Waterstones' Melissa Cox called Rooftoppers "a hugely deserving winner" of its Children's Book Prize, saying "it already feels like a classic".
The author's "lyrical writing style", she went on, "is immediately charming, effortlessly taking the reader on magical flights of fancy."
Open Very Carefully by Nicola O'Byrne, a reworking of the Ugly Duckling story, was named best picture book, while Holly Smale's Geek Girl won the teen book prize.
Other nominated titles this year included journalist Dawn O'Porter's teen novel Paper Aeroplanes and Shiverton Hall, the debut novel by Call the Midwife actress Emerald Fennell.