Denzel Washington triumphs in Broadway revival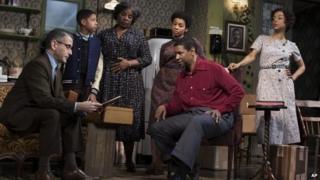 Denzel Washington has made an acclaimed return to Broadway in a revival of the 1959 racial drama A Raisin in the Sun.
Variety called his performance "a personal triumph", while USA Today branded his portrayal "riveting".
Washington stars as Walter Lee Younger, an embittered chauffeur who dreams of owning his own liquor store.
The "bona fide ensemble piece" also won praise for British actress Sophie Okonedo making her Broadway debut as Washington's wife.
"Despite the central presence of a movie megastar, the 2014 Raisin has a welcome egalitarianism," wrote Ben Brantley in the New York Times.
"Washington is the star attraction, but it's the harmonious balance of an impeccably matched ensemble that makes [director] Kenny Leon's lovingly staged revival of A Raisin in the Sun so alive with authentic feeling," writes the Hollywood Reporter's David Rooney.
[Washington] "refrains from star-strutting to fold himself into a tight-knit ensemble of committed stage thesps who treat this revival like a labour of love," echoed Variety's Marilyn Stasio.
Despite playing a man some 20 years his junior, Washington - who last starred on Broadway in 2010's Fences - won favourable comparison to musician-turned-actor Sean Combs, who took on the same role a decade ago.
"The age factor becomes a non-issue the minute he hits the stage," writes David Rooney in the Hollywood Reporter.
"Washington slides and swaggers around with the physicality of a still-young man who refuses to let go of his dreams, no matter how stubbornly they elude him."
"The actor gives a sterling account of Walter Lee's careless sourness, wrote Peter Marks, of the Washington Post, calling him "the master of the proud loser".
The latest production, playing in New York's Ethel Barrymore Theatre - where the play first debuted more than 50 years ago - reunites Washington with Fences director Kenny Leon, who also directed the 2004 revival.
There was fulsome praise for both director and the ensemble cast, which includes Latanya Richardson Jackson, Sean Patrick Thomas and Tony-winner Anika Noni Rose, as Walter's forward-looking sister.
Okonedo too is singled out for her "bone-weary" performance, which Hollywood Reporter describes as "standout" and Variety calls "utterly mesmerizing".
The director and cast "have reclaimed Lorraine Hansberry's 1959 play as an American classic, one that both captures a distinct time in our history and carries an enduring relevance and resonance," concludes Elysa Gardner of USA Today.
The play runs until 15 June.