Captain America sequel soars above US box office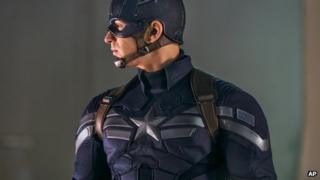 Captain America: The Winter Soldier earned $96m (£58m) in its opening weekend, claiming the top spot and a new US record for an April release.
The sequel to the 2011 original film about the Marvel superhero, starring Chris Evans, toppled biblical epic Noah, which stars Russell Crowe.
Its takings exceeded the record set in 2011 by the racing movie Fast Five, which collected $86.2m in ticket sales.
The top three was rounded off by dystopian action thriller Divergent.
The film, starring Shailene Woodley and Kate Winslet has earned a total of $114m (£68.7m) since its release in the US on 21 March.
Noah's $17m (£10.2m) over the weekend, add to its current US tally of $72m (£43.4m)
But internationally the film - a big budget CGI-packed take on the story of Noah and the ark - has continued to be a controversial subject, with Malaysia and Indonesia reportedly the latest countries to ban the film.
The UAE, Qatar and Bahrain are among Middle Eastern countries which have also banned the epic as it breaks Islam's taboo of depicting a prophet.
Another film which tackles religious subject matter, the critically panned God's Not Dead, has continued its strong form, taking $7.7m (£4.6m) and rising to number four in the chart from last week's fifth spot,.
Wes Anderson's Grand Budapest Hotel, starring Ralph Fiennes, F Murray Abraham and Jude Law rounded out the top five with $6.3m (£3.8m).
Originally released on 7 March to just four cinemas, it has now spread to 1,263 screens.