Mickey Rooney remains spark legal action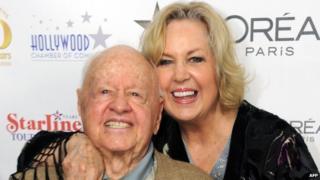 The fate of Mickey Rooney's remains will be decided this week, following the Hollywood actor's death on Sunday.
A judge in Los Angeles will decide on Friday whether the remains will be released to his estranged eighth wife or his lawyer, Michael Augustine.
According to court documents, Rooney's most recent will, dated 11 March, left his modest estate to stepson Mark Aber.
The actor had previously sued his other stepson, Christopher Aber, alleging elder abuse and fiscal mismanagement.
Mark Aber - also known as Mark Rooney - and Christopher Aber are the sons of Janice Rooney, who Mickey Rooney married in 1978.
The 93-year-old disinherited his wife and all his children in his last will, leaving his $18,000 (£10,726) estate to Mark who had served, with his wife, as his caregiver.
Michael Augustine was granted a court order on Tuesday preventing Janice Rooney from removing the actor's remains from a mortuary in Glendale, California.
Rooney, a Hollywood legend whose film and musical career spanned nine decades, was no longer living with his wife at the time of his death from natural causes.
The actor, loved by millions for his work in National Velvet and the Andy Hardy films, is survived by eight children as well as his two stepsons.
He designated Augustine to serve as the executor of his estate, stating he did not want any of his relatives handling his affairs.
In 2011, the actor testified before a US Senate committee that he had been emotionally and financially abused by family members.
According to his lawyer, the actor owned a burial plot northwest of Los Angeles but had recently said he wanted to be buried in Hollywood or a veterans' cemetery.