Chiwetel Ejiofor's post Oscars plans are low-budget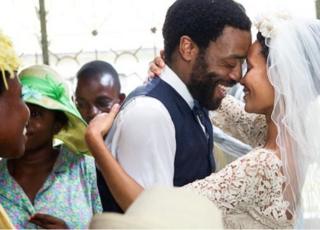 Chiwetel Ejiofor's Oscar-nominated performance in 12 Years a Slave projected his film career to a new level. His next film Half of a Yellow Sun, set in the violent struggles of 1960s Nigeria, is a long way from Hollywood but the actor insists stardom won't mean leaving low-budget projects behind.
On stage Chiwetel Ejiofor has played to acclaim in everything from Coward to Chekhov to Shakespeare.
On screen he's starred in films as varied as Kinky Boots and American Gangster. He's so much in demand with directors he's managed to avoid any hint of typecasting.
But with Half of a Yellow Sun he was, for once, happy to tap into his family's Nigerian roots.
"I didn't hesitate for a moment," he says. "The director Biyi Bandele and I have been friends for a long time and we've often discussed making a film in Nigeria.
"So it was a perfect confluence of events when Biyi told me he was adapting the novel for the screen and we started to plan how we could take the project out there. I was desperate to tell this story.
"It had been my mother who introduced me to the Chimamanda Adichie book in 2007, not long after it came out. She just found it deeply affecting and very beautiful.
"It reminded her of growing up before and during the Biafran War in Nigeria in her early teens. And I think the life of her father had closely resembled some of the journey of Odenigbo, the character I play in the story."
The film, co-starring Thandie Newton, is faithful to the novel's intertwining of a family saga with an account of the terrible ethnic conflicts in 1960s Nigeria.
The Biafran War began in 1967 when eastern parts of the country tried to break away and form an independent republic. The attempt failed, at the cost of many hundreds of thousands of lives.
Too remote?
It's clear Half of a Yellow Sun is close to Chiwetel Ejiofor's heart - but did he ever fear the Biafran War would feel too remote for audiences in 2014?
"I don't think it matters that many younger people won't know a lot about Biafra. Chimamanda's book was hugely popular all around the world.
"So clearly there was a readership which wanted to hear her story of another time and another place. And there's always an audience for strong narrative drama too.
"You don't need to appreciate every detail of the political background to watch the film. There are elements of a love story and of how families survive. I think all of that is pretty universal."
The film was shot wholly in Nigeria, partly on remote locations and partly in a major studio in Calabar. Ejiofor, born in London, says there were problems but mainly not those he had expected.
"The Nigerian film industry is big and it's highly developed. So there weren't the issues of logistics and infrastructure which I might have feared. But on location we were sometimes in very remote areas.
"Being out there, by a tributary of the Calabar river, people did become susceptible to malaria and typhoid. Those were the big challenges for a crew made up of people from Nigeria, Britain and South Africa.
"But for all the problems it was worth being on those locations. The big impact of the Nigerian forces during the Biafran War was in the small villages, so being there was a strong addition to the story."
Half of a Yellow Sun was filmed before 12 Years a Slave. It's a good-looking but relatively small budget film which will benefit from Ejiofor's recent profile-boost. He's even being touted as the villain in next year's James Bond film.
In demand
But might being so much in demand make it hard to find time for interesting one-offs which aren't going to pay a fortune?
"I don't think there is any circumstance - or any level of fame - that I could possibly reach in which I wouldn't want to investigate a story like this. If as an actor you engage with stories and narratives properly it's not a question of financing or budgets.
"If I ever think like that I'll be thinking with the wrong side of my head. Nothing I've done to date has been influenced like that and I don't think it ever will be."
Ejiofor also insists he won't abandon the theatre for big Hollywood pay-cheques.
His most recent stage appearance was last summer at the Young Vic theatre in London in A Season in the Congo, in which he played the Congolese politician Patrice Lumumba.
"In fact, because of 12 Years I feel the opportunities to do stuff that I believe in have increased." he says. "That includes theatre and that won't change.
"I've always had an incredible time in London, both in the West End and off-West End. There's a huge pool of stage-craft available there and it would be totally impossible for me not to have that as part of my working life."
"People will always want to engage with good narrative and with interesting characters. It's what readers were engrossed by when Chimamanda Adichie published Half of a Yellow Sun and now I believe audiences will think the same thing about the film.
"It's no different in the theatre: people want to be engrossed. That's as true for actors and directors as it is for audiences: it's why we do the job."
Half of a Yellow Sun is in UK cinemas now.