Kim Shillinglaw named controller of BBC Two and Four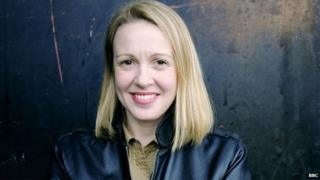 Kim Shillinglaw has been named controller of BBC Two and BBC Four, replacing Janice Hadlow, who stepped down earlier this year.
The BBC executive currently works in the science and natural history unit, where she commissioned shows such as Stargazing Live and Frozen Planet.
She has also suggested TV "hasn't tried hard enough" to find female science presenters.
BBC director of TV, Danny Cohen, called her "an exceptional creative" talent.
"She has an eye for scale and the bigger picture and seeks out distinctive, high-quality ideas. BBC Two is in fantastic shape and I'm looking forward to seeing the channel blossom further under Kim's leadership."
Shillinglaw has been critical of the lack of representation of women on television, particularly on science and factual programmes.
Writing in The Guardian in 2011, she accepted some of the blame, saying: "perhaps we programme-makers just haven't tried hard enough".
But, she added, the BBC had made efforts to redress the balance, hiring the likes of physicist Helen Czerski, climate expert Dr Gabrielle Walker and space scientist Maggie Aderin Pocock to front series and documentaries.
She has also criticised the shortage of female comedians on panel shows, including BBC Two's Mock The Week.
"Why are the only women on Mock The Week compilations laughing cutaways?" she wrote on Twitter last year, predating the BBC edict that outlawed all-male line-ups.
"They never get to speak. Surely not because [they're] not funny?"
'Thought-provoking TV'
An Oxford History graduate, Shillinglaw has had a long career in broadcasting, both at the BBC and in the independent TV sector.
In her current role, she commissions more than 200 hours of television per year, with programmes including Planet Earth Live, Pompeii, Richard Hammond's Journey to the Centre of the Earth, Planet Dinosaur, Dara O'Briain's Science Club and Springwatch.
She has also worked in children's television, where she developed the first series of Horrible Histories.
Of her new role, she said: "BBC Two has always been one of the most creative channels in the world, with a huge range of quality programming.
"I'm delighted and honoured by the prospect of working with the best of our British talent and programme makers; I look forward to taking it and BBC Four to the next phase of great, thought-provoking and lively TV for British audiences."
Shillinglaw was paid £160,340 last year. The BBC has not revealed her new salary - but her predecessor's final salary was £235,050.
Janice Hadlow, who stepped down from BBC Two last year, commissioned shows such as The Great British Bake-Off and Twenty Twelve.
She is now in charge of "special projects and seasons" at the corporation, overseeing series about popular music, literature and women's history.