Olivier Awards: Small theatres flex muscles in West End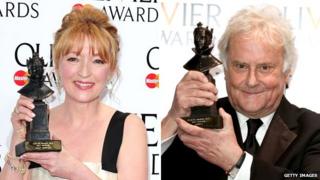 It was a night when London's smaller theatres showed the West End who was boss.
Islington's Almeida Theatre emerged triumphant at Sunday's Olivier Awards with a combined eight wins for its West End transfers of Chimerica and Ghosts.
Lucy Kirkwood's Chimerica, inspired by events in China's Tiananmen Square in 1989, had the most wins for a single production - five in all, including best new play, best director for Lyndsey Turner and best set design for Es Devlin.
Chimerica opened at the subsidised 325-seat Almeida before transferring to a bigger commercial West End venue - the Harold Pinter Theatre near Leicester Square.
A similar path was followed by Sir Richard Eyre's production of Henrik Ibsen's Ghosts, which won best revival, best actress for Lesley Manville, with Jack Lowden winning best supporting actor.
Sir Richard said the awards showed the healthy "ecology" of the theatre.
"Commercial theatre and subsidised theatre feed each other to a mutual advantage," he said backstage at the Royal Opera House. "You can't have one without the other. If subsidised theatre actually dwindled overnight you would find a very depleted commercial theatre."
He added: "For all the successes, you have to be allowed to fail. That's what subsidy gives you."
Sir Richard begins work on rehearsals on Monday morning for musical The Pyjama Game - which began at Chichester Festival Theatre and transfers to the Shaftesbury Theatre in May.
Lesley Manville, who cut her theatrical teeth at the subsidised Royal Court theatre, said it was "heart-warming" that the subsidised theatre had performed so well at the Oliviers.
"Subsidised theatres can by their very nature take risks. And I think the Almeida does that brilliantly. Also because it is a small theatre, the intimacy that you can have with audience is greater because they can see the whites of your eyes and the emotion without you having to over do it."
Manville played the role of Mrs Alving for 170 performances at the Almeida and, later, the Trafalgar Studios. With the play having ended three weeks ago, the actress admitted she was feeling "post-Ghosts blues".
"I couldn't have gone on doing it because six months is quite enough but I miss it very much."
The 90-minute play was said to be so intense that audiences sometimes didn't know if they should clap at the end.
Another Almeida production, 1984, transfers to the West End's Playhouse Theatre at the end of April. But the Almeida wasn't the only example of an off-West End theatre making a splash in the commercial pond.
Stephen Sondheim's musical Merrily We Roll Along, directed by Maria Friedman, started life at the Menier Chocolate Factory, transferred to the Harold Pinter, and was crowned best musical revival.
And the Tricycle Theatre's Handbagged, written by Moira Buffini and directed by Indhu Rubasingham, won the award for outstanding achievement in an affiliate theatre. It opened at the West End's Vaudeville Theatre last week.
Elsewhere, star names such as Jude Law and Dame Judi Dench were beaten to the top acting prizes.
Dame Judi had been nominated for her role in Peter and Alice, while Law was up for Henry V. Both plays formed part of the inaugural Michael Grandage commercial season in the West End.
Commercial theatre did have a major success with The Book Of Mormon dominating the musical categories by winning four awards including best new musical and best actor in a musical for Gavin Creel.
The Book of Mormon follows the story of two missionaries who are sent from Salt Lake City to preach in a remote Ugandan village.
Co-written by South Park's Trey Parker and Matt Stone, the show's content is not for the faint-hearted, with strong language and jokes about religion, Aids and female circumcision.
Opening in London in February 2013, the show has been a sell-out, with a small number of daily tickets available via a lottery system.
Creel, who plays Elder Price, said: "It's amazing to be a hot ticket because as actors we want people to come and see what we do. I've been in plenty of shows where I've looked out at the audience and thought 'there's more people on stage than there are out there.'"
As well as Ghosts, Sir Richard Eyre directed a West End musical last year that has not enjoyed the success of Mormon.
His production of Andrew Lloyd Webber's Stephen Ward closed last month after a West End run of less than four months after sluggish ticket sales.
Speaking backstage at the Oliviers, Sir Richard said: "There is something emancipating about doing a show outside the West End where you think, 'I don't have to hit the jackpot every time.' If you do it in a 300-seat theatre there's not that hysterical pressure that there is when you do a show in the West End and there's a lot of cash and reputation hanging on it."
He added: "When you do a big musical it comes with the territory. You can't avoid it. It's different to putting on a show at the Almeida with five actors."