Broadway actress Phyllis Frelich dies at 70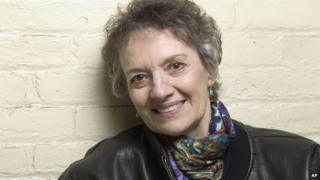 Tony award-winning actress Phyllis Frelich has died at the age of 70.
Frelich, who was deaf, was best known for starring in the Broadway version of Children of a Lesser God.
In 1980 she won a Tony for her role as deaf character, Sarah Norman. Marlee Matlin won an Oscar for her portrayal of Norman in the 1986 film version.
Frelich's husband Robert Steinberg said she had died at her Temple City home on Thursday from a rare degenerative neurological disease.
Deaf parents
He said there were no treatments available for her illness, progressive supranuclear palsy, otherwise known as PSP.
"She was extraordinary, the finest sign language actress there ever was,'' he said.
"We were married for 46 years. I would have been happy with 46 more."
Frelich was born in Devils Lake, North Dakota, the oldest of nine deaf children born to deaf parents.
Her interest in acting took off while she was studying at Gallaudet College - now called Gallaudet University - in Washington DC.
She then joined the National Theatre of the Deaf where she met Steinberg, who was a scenic and lighting designer on several plays by award-winning writer Mark Medoff.
The couple inspired Medoff to write Children of a Lesser God, which is about the relationship of a deaf woman and a teacher at a school for deaf students.
In a 1988 interview with the Associated Press, Frelich said: "I was the first deaf person he (Medoff) had known. I told him there were no roles for deaf actresses. He said: 'Ok, I'll write a play for you.' He did. He went home and wrote Children of a Lesser God.
"He wanted to write a good play. He was interested in me as an actress and he wasn't trying to write a message play."
Medoff, now a professor at New Mexico State University, paid tribute to Frelich on Saturday.
'Our leader'
"The play opened and I really thought, 'I'm working with as good as an actor as I've ever worked with in my life. And I've got to take advantage of it,'" Medoff told the Associated Press.
Frelich also starred a as a deaf playwright opposite Richard Dreyfuss in another Medoff play, In the Hands of Its Enemy.
"She didn't start out as a revolutionary individual, but she became an incredible advocate for deaf culture," Medoff said.
John Rubinstein, who also won a Tony for the male lead role of John Reed in Children of a Lesser God, praised his co-star's energy and acting ability.
"She was 70 years old, but that statistic means nothing. She looked like a 40-year-old woman ready to run 25 miles," Rubinstein said.
He added that Frelich expressed "what she needed to express with only her arms and hands and face and body."
Arrested Development star Jeffrey Tambor, who acted opposite Frelich and Dreyfuss in The Hands of Its Enemy, called her "a walking acting lesson."
"I just remember her eyes just radiating all this warmth and power and love and courage in her performance," Tambor said.
"It was just a wonderful play and a wonderful cast. Phyllis was our leader. She was something," he added.
Frelich also starred in TV series including CSI, ER and LA Law.