Sir Bruce Forsyth explains Strictly Come Dancing decision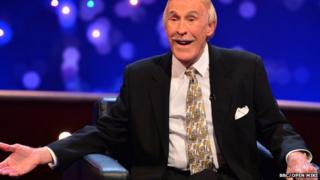 Sir Bruce Forsyth has said criticism over his age was a factor in his decision to step down from hosting BBC One's Strictly Come Dancing.
The star told the Michael McIntyre Chat Show he had had to "think very seriously" about quitting the series, but knew "it's better for me".
"It's live every week and if I made a mistake [the press would say]: 'Oh he's 86 years old and past it'," he said.
"I was getting all that, which you don't need... Who needs it?"
Sir Bruce announced on 4 April he was leaving the BBC show after 11 series. He said: "It comes to a time when you do get to a stage and say 'this is enough'.
"And I do get tired doing live telly. Live telly is very, very strenuous, especially when some of the shows are an hour and 40 minutes long.
"It was a big decision... It's better for me physically, I'll be able to spend more time with my wife and my family."
Sir Bruce will continue to front one-off editions of Strictly including the Christmas and Children in Need specials.
The TV veteran said he did not think news of his departure would make headlines.
"I didn't expect it to make all the fuss it did. I'm very flattered by all that and it's been marvellous," he said.
He added he had "no idea" who would be recruited to replace him when the show returns in the autumn, saying it was "up to the BBC".
The interview will be broadcast on Monday at 22:35 BST on BBC One.
Meanwhile, McIntyre's chat show has been commissioned for a second series, the BBC has confirmed.
It will return later this year, although dates have yet to be announced.