Richard Armitage to star in The Crucible at Old Vic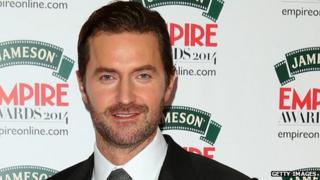 Richard Armitage is to star in a new production of The Crucible at the Old Vic in London.
The actor, who plays Thorin Oakenshield in The Hobbit films, will play the role of John Proctor in Arthur Miller's classic play.
The production will be presented in-the-round from 24 June.
Armitage's previous stage work includes The Duchess of Malfi and Macbeth for the RSC, and Hamlet at Birmingham Rep.
His TV roles include Spooks, North and South, Robin Hood and the BBC's Macbeth opposite James McAvoy and Keeley Hawes.
Other cast members in The Crucible, directed by Yael Farber, include Anna Madeley and Samantha Colley.
Set during the Salem witch trials, Miller's play draws parallels with his experience of McCarthy's anticommunist investigations in the US in the 1950s.