Graham Norton too 'lazy' to be Strictly Come Dancing host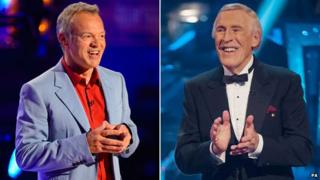 Broadcaster Graham Norton has expressed reservations about succeeding Sir Bruce Forsyth as Strictly Come Dancing host, saying he is too "lazy" to do the job.
"I wouldn't jump at the chance," he told The Sun. "I really enjoy the show but it's a very tough gig.
"It's very hard for a new person to take over... and I'm quite lazy."
The Irish comic and chat show host has been tipped to take over the BBC One show following Sir Bruce's announcement he is to step down.
Actor John Barrowman and presenter Nick Knowles have also been mooted as potential replacements.
According to Norton, though, "the sensible way forward" would be to continue the Tess Daly-Claudia Winkleman partnership that has become a Strictly Come Dancing fixture.
The pair co-host the Strictly results show on Sunday and have filled in for Forsyth on some editions of the main Saturday night show.
"I think as a tried-and-tested duo they're great and work really well together," said Norton, whose BBC One chat show is shown on Friday nights.
The 51-year-old, who also has a Saturday show on BBC Radio 2 and hosts the BBC's coverage of the Eurovision Song Contest, said it would be "a bit weird" to take on a show that could see him on television on Saturdays and Sundays.
In a separate interview, Daly's presenter husband Vernon Kay also tipped his wife and Winkleman to take on the presenting duties full-time.
"She and Tess have a great relationship," he told the Daily Mirror. "It would be pretty phenomenal to have such a successful show presented by two women as well."
Unlike Norton, however, Kay did not rule himself out of the running, suggesting one would have to be an "idiot" to turn it down the job if it was offered.
"When someone says to you, 'Would you like to co-host the most successful show on British television at the moment,' who is going to say no?" he told the newspaper.
Sir Bruce, who announced his departure earlier this month, has presented the BBC One ratings winner with Daly since the show began in 2004.
The 86-year-old went on to reveal that the rigours of the job and criticism over his ability to continue in the role had been factors in his decision.