Dad's Army: A box office battle?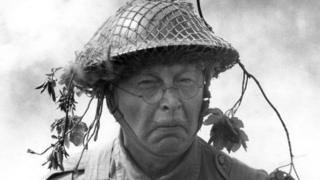 Dad's Army looks set to invade the big screen - for the second time. How much of a challenge does the TV comedy classic face finding a modern audience?
More than 45 years since it was first seen on television, a new cinema version of Dad's Army is in the works.
The story of the Home Guard waiting for a Nazi invasion in the fictional town of Walmington-on-Sea will apparently star Toby Jones as Captain Mainwaring and Bill Nighy as Sergeant Wilson, roles made famous by Arthur Lowe and John Le Mesurier.
The latest version will be directed by Oliver Parker, who made Johnny English Reborn and the two recent St Trinian's films, from a script by Hamish McColl, who wrote Johnny English Reborn and Mr Bean's Holiday.
Producer Damian Jones has said the "universal appeal" of Dad's Army convinced him a new film could work.
That appeal is not in doubt. Having run on TV between 1968 and 1977, attracting 18 million viewers at its height, repeats of Dad's Army on BBC Two still draw an audience of about 2 million. A film spin-off version from 1971 also gets regular outings on TV.
"I don't think it's a great surprise," says Tim Glanfield, editor of RadioTimes.com. "Dad's Army is known among TV schedulers as 'ratings crack' because of its enduring appeal."
He points out that revivals and rebooted franchises are a big part of the world of TV, film and music.
Former BBC sitcom Birds of a Feather recently resurfaced on ITV and Del Boy and Rodney were briefly resurrected for an Only Fools and Horses Sport Relief sketch last month.
But the actors taking on such familiar Dad's Army roles will have their work cut out, according to Glanfield. "I wouldn't want to be Toby Jones or Bill Nighy at the moment.
"Captain Mainwaring and Wilson are huge comedy characters in the same league as Del Trotter or Basil Fawlty. To step into their shoes is an enormous challenge for those actors."
The new Dad's Army project would hope to emulate the recent big screen success of popular TV comedies The Inbetweeners and Alan Partridge.
The show's co-creator Jimmy Perry has given the project his blessing but won't be involved in the script.
Michael Rosser, news editor at Screen International, argues that Dad's Army has a unique take on stories about World War II.
"It's an opportunity to explore a war story in a funny way that's not really been done in the movies. I can't think of any other films about the Home Guard."
He thinks the film would appeal to the "grey pound" market - older cinemagoers who have flocked to films such as The Best Exotic Marigold Hotel. He points out that remakes are also an attractive proposition in the film industry.
"Film is very risk averse. Dad's Army is already a success story. There's a fan base already. You're not just building from scratch."
Glanfield agrees that the core audience will be older, but wonders if long-term fans will turn out to see the new version.
"Even though a lot of people went to see it in the cinema some 45 years ago, would those same people get out of their armchair now or would they prefer to watch the repeats on BBC Two as they do at the moment?
"In a very competitive 21st Century cinema market, I wonder whether it will have what it takes to stand out and capture the imagination of a general audience."
Rosser doesn't see any reason to panic about Dad's Army's box office chances. "It could prove very popular in the UK," he says.
"I think it could have a job to convince people outside the UK, but the Second World War is not so local a story that it would shut out an international audience."