Gregg Allman sues to stop Midnight Rider film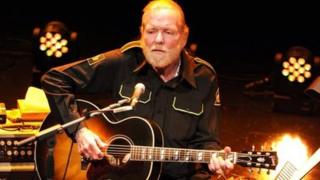 Blues-rock singer Gregg Allman has taken legal action to stop a film based on his 2012 memoir.
His lawyers allege that producers lost their rights to his life story, saying filming of Midnight Rider did not begin by 28 February, adding Allman was not paid fully for the film rights.
The action comes after a crew member was killed by a train during initial production on 20 February.
Producers have said they still plan to move ahead with the movie.
According to legal papers filed in Savannah, Georgia, Allman's lawyers have asked a Superior Court judge to order Unclaimed Freight Productions "to cease all efforts to make a motion picture based upon the life of Gregg Allman and/or his autobiography".
Production had just begun on the film when the train accident occurred in Wayne County.
The crew had placed a bed on a railroad bridge for a dream sequence involving two trains, when a third unexpectedly appeared.
Camera assistant Sarah Jones died after being struck and seven other crew members were injured by flying debris.
Producers suspended work on the movie indefinitely following the incident and actor William Hurt, who was to star as Allman, later pulled out of the film. However it has recently been reported the project is planned to resume by June.
According to legal papers, producers told Allman's lawyers the footage shot on the train tracks before the crash satisfied the principle photography deadline of 28 February, meaning filming for the movie had begun.
But after reviewing the footage, Allman's lawyers said "none of it contained any dialogue whatsoever or appeared suitable for inclusion in the film".
A hearing is scheduled for 12 May on Allman's request to halt further work on the movie.
Allman - who is also an executive producer on the film - previously wrote to the movie's director, Randall Miller, asking him to stop production following the train tragedy.
"I am writing to you as one human being to another, and appealing to you from my heart," he said.
"I am asking you from a personal perspective not to go forward... the reality of Sarah Jones' tragic death, the loss suffered by the Jones family and injuries to the others involved has led me to realise that for you to continue production would be wrong."
A spokeswoman for Unclaimed Freight said producers had no comment on Allman's legal action.