Lykke Li: 'Love tore me apart'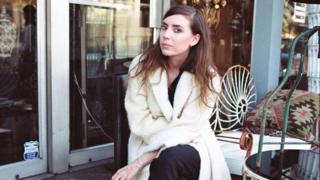 If you think Scandinavian drama is bleak, wait until you hear Lykke Li's new album.
Written in the aftermath of a painful relationship break-up, the Swedish singer has described it as "power ballads for the broken".
The song titles alone - Never Gonna Love Again, Sleeping Alone, I Never Learn - read like an Argos catalogue of misery.
During recording, the 28-year-old had one goal in mind: "I wanted every take to feel like a punch in the stomach".
Her reference points were lo-fi demo tapes by Bob Dylan and Bob Marley, whose raw power she was hoping to recreate.
"But that," she points out, "is really difficult. So I was failing constantly, and feeling lousy."
When the breakthrough finally came, she didn't even realise. After writing a song called Love Me Like I'm Not Made Of Stone, she "recorded it on a tape recorder just to have it for reference".
It wasn't until a couple of weeks later that she listened back to the performance.
"I just simply couldn't see how anything I would add to it would make it better. And that's why the song still has some hiss on it. It's from the actual tape."
A disarmingly direct study of a broken heart, the track was released as the first taste of Li's album in March.
In the final chorus, her voice drops out completely, the words apparently catching in her throat as she begs her lover to return.
'Guilty'
The rest of the album is equally sombre. As the Guardian said in its review, I Never Learn is "one big sad love song after another".
Its excoriating lyrics are rooted in truth. Li put pen to paper after the most important relationship of her life fell apart, and she fled 5,500 miles to Los Angeles.
But, unusually for a break-up album, the singer shoulders most of the blame herself.
"I let my true love die," she sings on No Rest For The Wicked. "I had his heart and I broke it every time."
Li is reluctant to explain the exact circumstances - "when you go into details, I think you minimise the relationship" - but concedes "it's a struggle when your heart rebels against you".
"If you listen to the record word by word, you would realise that my heart has perpetrated these things. I'm guilty."
I Never Learn is a far cry from Li's debut, 2007's cute-but-catchy pop album Youth Novels, and she knows it.
"I accidentally happened to hear a song from my first record and I was like 'I can't believe this was me,'" she says.
"It sounds like a completely different person. Who knew that love would come crashing down on her, and tear her apart?"
The singer has always had a dark side - her second album found her declaring "sadness is a blessing" and singing wistfully of being "kicked 'til I drown" - but she bristles at the suggestion songwriting helps her cope.
"That phrase, 'therapeutic', has become a cliche," she says. "I go to therapy as well and it's very different - a lot less sexy.
"The thing that an album does to me is that I go into the process as one person, down a tunnel in search of light, and I come out on the other side as another person.
"I don't know if its therapeutic, it's just the way it is."
But there's no denying that Li's heartache has resulted in an album of devastating beauty.
"For me, it's like the album's fighting for light," she says.
"I put all my anger and revenge into the percussion. The pedal steel is searching for light in the darkness."
Another shaft of light comes from the gospel choir-assisted Heart of Steel.
Their vocals were one of the last elements to be recorded, with an excited Lykke Li posting several videos of the recording session on Instagram in February.
Although she was supposed to be behind the mixing desk producing the session, the singer insisted on being in the studio.
"I was like, 'is it ok if I just stand here with you?'" she recalls. "And it was unbelievable," she says. "They were just belting it out."
The idea of writing for a choir had been gestating since she was a child.
"That's kind of how I learned how to sing," she says.
"My mum is a terrible, terrible singer. My dad is just good at playing guitar [but] there was a gospel choir for immigrants in Stockholm that I would go to, because I thought they sang with such soul, in a way that no white Swedish person could sing."
"So that's how I basically started singing, with those immigrants."
Heart of Steel is one of several songs on the record co-written with Rick Nowels, a Californian songsmith, who specialises in soul-baring female pop.
Over the last 25 years, he's been the guiding hand behind hits like Belinda Carlisle's Circle In The Sand, Madonna's Power of Goodbye, Dido's White Flag and Lana Del Rey's Summertime Sadness.
"We're so unbelievably different as people," Li says.
"He's a lot older than I am, and he wears khaki and Hawaiian shirts. I'm a bit too much of a dreamer - too emotional, too sensitive.
"But he makes me structure the songs. He helps me find the right way to be the poet and to be the dreamer."
So how would her songs sound without his influence?
"Oh, they'd be 10-minute long meditations full of ranting," she laughs.
Movie roles
The move to Los Angeles has been positive for other reasons, she says.
"After rain has been pouring down on you at a festival, to go there and take your coat off and have avocado… Hallelujah!"
And being in the epicentre of Hollywood also led to a film role in Terrence Malick's mysterious, untitled new movie, set against the backdrop of the music business.
"I was on set working with him for almost two weeks," she says of the famously mercurial director, "but I have no idea if I'm going to be in it.
"When I was there they had already filmed 500 hours and they were not even half-way through, so we'll see."
While she waits, the singer is preparing an "even more theatrical" live show, and fielding calls from friends who've been unsettled by her album's more honest moments.
"A friend wrote me an email saying, 'I keep listening to your songs and it makes me a little sad because I can see this is really how you feel,'" the singer confesses. "But that was honestly the biggest compliment I got.
"For me, if I'm watching something that someone else has done, the times when I get most affected are when I feel 'this is so personal that no-one else would have been able to do it'".
"That's where art can really make a change. You want to make something that's not only for yourself, but can actually make people feel less lonely. That mends something, or offers some type of relief."
Lykke Li's album, I Never Learn, is out now on Atlantic Records.