New Mighty Morphin Power Rangers movie to be made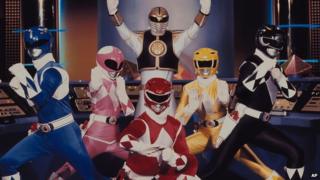 A new movie starring brightly-coloured Spandex-wearing heroes the Mighty Morphin Power Rangers has been announced.
Film studio Lionsgate, home of the hugely successful Hunger Games franchise, is working on the film with the original creators, Saban.
Power Rangers, which first began in 1993, based on a Japanese TV show, ran for three series before it was renamed.
It spawned a lucrative toy line and a critically-maligned feature film.
It was, however, a box office hit making more than $66m (£39m) worldwide.
After the initial TV run, the franchise was relaunched as the Power Rangers and has continued for another 17 seasons and another film in 1997.
Lionsgate said: "With an extensive and extremely devoted worldwide fan base as well as a deep and detailed mythology, the Power Rangers are primed for the big screen."
It added the new film will re-envision the Mighty Morphin Power Rangers as "a group of high school kids who are infused with unique and cool super powers but must harness and use those powers as a team if they have any hope of saving the world".
Another hit children's series from the 1990s, the Teenage Mutant Ninja Turtles, has also been given the big screen treatment with a new film, produced by Michael Bay, due out in August.