Annette Bening joins King Lear in Central Park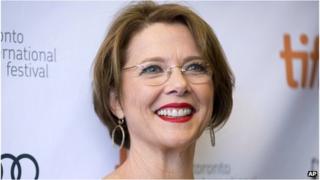 Actress Annette Bening will star opposite John Lithgow in an open-air production of King Lear in New York's Central Park this summer.
Bening will play Lear's daughter Goneril, with Jessica Collins and Jessica Hecht playing her two sisters.
The Oscar-nominated actress last appeared on a New York stage in 1988's Coastal Disturbances on Broadway.
King Lear will be performed from 22 July to 17 August at the Delacorte Theatre, an outdoor amphitheatre.
Tony Award-winner Daniel Sullivan will direct the classic tragedy.
Bening has received Oscar nominations for her roles in the films The Kids Are All Right, American Beauty, The Grifters and Being Julie.
Until this week, she was appearing on stage in a one-woman show inspired by American actress Ruth Draper's monologues at the Geffen Playhouse in Los Angeles.
Her performance was called "glorious" by her future co-star Lithgow on Twitter, who also recently posted a picture of the beard he is growing for the role of the troubled King.
He wrote: "Starting to look like #KingLear. Wait'll you see that beard on July 22, Delacorte Theater in Central Park."
King Lear is part of the Shakespeare in the Park season, which is run by the city's Public Theater. The production will follow Much Ado About Nothing, which runs from 3 June to 6 July, starring Hamish Linklater and Lily Rabe.
Most tickets for Shakespeare in the Park are handed out for free in an attempt to create "theatre for all", often sparking large queues for its star-studded productions.
Now in its 52nd year, the festival's performances in Central Park have been watched by more than five million people.