Arcade Fire: Dressing up and falling over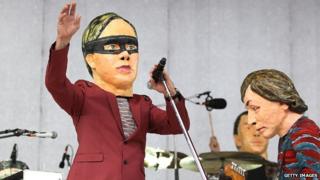 When Arcade Fire first played in the UK 10 years ago, frontman Win Butler would shake and shudder on stage like a man being exorcised of an especially stubborn demon.
These days, he's more likely to jump around in a giant papier mache head, striking ironic rock poses and generally swivelling his hips.
"I've changed a lot over the last 10 years," he says.
"When I was younger, I was a lot more insecure about dancing. Now I couldn't care less what people think about me."
His confidence can't have been dented by the fact his band have become one of the world's biggest rock acts, with multi-platinum, award-winning albums and celebrity friends including David Bowie, Bruce Springsteen and David Byrne.
But it was visiting Haiti that freed his inner Fred Astaire. The carnival, he says, "was the first time I enjoyed dancing as part of a huge crowd".
The experience not only inspired Arcade Fire's rhythmically supple fourth album, Reflektor, but its resulting tour.
Playing Blackpool's Empress Ballroom last November, they arrived by tram and led a carnival procession through the streets, accompanied by a mariachi band.
Most nights, Butler stays on after the show and DJs for fans until the venue's curfew runs out. In turn, the fans are asked to dress up in formal attire and carnival outfits.
The band hit the UK this week for two shows at Earl's Court - after which they headline festival dates at Glastonbury and Hyde Park.
Ahead of the dates, Butler spoke to the BBC about dressing up, falling over, and the reaction to the band's latest video, We Exist, in which Spider-Man star Andrew Garfield is seen dressing in woman's clothes and being attacked in a bar, before finding acceptance at an Arcade Fire show.
So, you're playing three major UK shows in a month - at Earl's Court, Glastonbury and Hyde Park. What keeps you coming back?
It just feels like music is a really integral part of British culture and society, in a way that it gets swept under the rug in other countries.
The UK has a reputation for being quite reserved. How have people responded to the request to wear fancy dress?
Blackpool was mind-blowing. At one point I looked down at this ancient ballroom and there were all these kids in tuxedos and Halloween costumes, dancing at midnight. It really felt like it was 1972. There was nothing to make you know that it was a modern show.
What's the most memorable outfit you've seen so far?
There was a woman who did a full mirrored "Reflektor outfit". It was really, really elaborate - like a disco tin man.
Were you ever nervous people wouldn't dress up?
I had a friend who was telling me about going to see Prince in 1985 at the New Orleans Superdome. On the ticket, it was printed "wear purple" and there was a rumour at his high school that if you didn't wear purple, Prince had these gangs that were going to beat the crap out of you. So they were terrified, and they went down to the store and got purple suits and it was a stadium full of purple. He said it was one of the most memorable gigs he'd been to.
I think it just makes the atmosphere special. That's true of any show - the crowd has to buy into it and meet you half-way for it to be a really great show.
You've been dressing up, too, with your giant papier mache heads. What's it like playing guitar in one of those?
Oh man! It's tough. You really have to know what you're doing because you can only see through the nose holes.
Have you fallen off stage yet?
I did in a rehearsal but I've figured it out now - the hard way. You can't move around too much.
You've had a few big guest stars during the tour - what's been the highlight?
The Coachella performance was pretty special - Debbie Harry and Andrew Garfield both took part in the same show and we were filming the We Exist video at the same time. To do that in front of 80,000 people was definitely pretty memorable.
In the video, Andrew walks through the crowd and gets up on stage in a dress and full make-up. What was that moment like?
We only had one shot and it was the end of the video [but]I had no doubt, from a cinematic standpoint, that it was going to work. Andrew was so invested in the part. He shaved his head in the middle of the Spider-Man press tour. He really jumped out on a limb, in his acting.
What's the reaction been like?
I mean, mostly overwhelmingly positive. A lot of people were really moved by it.
There was some criticism that you hired a straight actor for that part.
There was kind of a back and forth in the trans community about representation. We didn't really see Andrew's character as being a fully transitioned-to-woman character, so it wasn't on our radar to cast someone who'd transitioned to a woman to play the character.
But the point of the video was to generate debate and for people to talk about these issues. So for me, it was really a success.
The only thing that was disappointing is the nature of modern media, which is very much to make sensational headlines, to try and draw people to click on things so they can sell advertising space to some multinational company. When something you care about gets sucked into this journalism black hole, it can be a little bit depressing. The spiritual point of what you're trying to do gets lost.
The headline on most sites was just "Look at Andrew Garfield in drag!"
Yeah! That's what you think the title of the video is when you click on it! Half the sites said "Andrew Garfield in drag" and the other half said "Andrew Garfield is trans" - and those two terms don't mean the same thing at all. Particularly if you're gay or trans, these terms mean a lot.
For it all to get thrown around so crassly… It's something I've grown accustomed to. But the video is going to have a life beyond this week. People will be watching the video in 10 years, so ultimately it'll have to stand up for itself.
The song was recorded in Jamaica after you saw how gay and transgendered people were treated there, is that right?
If you see someone who's transgendered or who's dressed in drag in the UK, it's more normal at this point. But meeting people who are risking their health or their life, it opened me up emotionally to be aware of the struggle people are going through.
But there's a more universal message to the song. I think a lot of our music has tried to give people some sort of support in trying to figure out who you are and what you want to be. I've always found that one of the more important struggles in life.
Do people come up to say your songs have made a difference?
I get some pretty intense reactions. Particularly on Funeral, from people who've gone through death or suicide. It's not like that all the time but every once in a while someone will drop something pretty heavy on you.
Have you ever done that yourself - told another musician about the effect their work has had on you?
I've become friends and become close with people whose music was important to me but I've never… It's not really my style.
We've had these almost casual relationships with our heroes, in a really strange way. Just from having Bowie and David Byrne coming to our first shows in New York, I think, pretty early on we got really used to hanging out with people we respected a lot. The most star-struck I've ever been is around President Obama.
You recorded 18 tracks for Reflektor - but only 13 made the final cut. Have you any plans to release the rest of the sessions?
No plans. As you focus in on a record, what tends to happen is the stuff you're not 100% sure about gets partially completed and laid to one side. So it's not like we have a whole record of finished songs - because the amount of energy it takes to complete a double album is bananas, at least for us. It's the equivalent of finishing a film. It's a monstrous amount of work.
Arcade Fire play two nights at Earl's Court this weekend, before headlining the Glastonbury Festival on Friday, 27 June and the BST Hyde Park event on 3 July.