Tracy Morgan: Crash driver pleads not guilty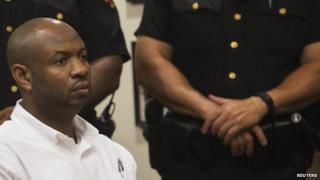 The lorry driver accused of causing the fatal crash that also injured comedian Tracy Morgan has pleaded not guilty.
Prosecutors say Walmart lorry driver Kevin Roper, 35, had not slept for more than 24 hours before the accident early on Saturday morning.
He swerved to avoid traffic on the New Jersey Turnpike, crashing into Mr Morgan's van and killing comedian James McNair, known as Jimmy Mack.
Mr Roper is charged with death by auto and assault.
His bail has been set at $50,000 (£29,779) and he could face more than a decade in prison if convicted.
Investigators are also examining what role Mr Roper's work commute played in the accident.
He lived in Georgia but his job was based in Delaware, US media report.
Wal-Mart has said Mr Roper was in compliance with federal safety regulations at the time.
Mr Morgan, who was nominated for an Emmy for his role in 30 Rock, is in a critical but stable condition after surgery on a broken leg at the weekend.
The 45-year-old also suffered a broken nose and several broken ribs in the accident, in which two other passengers were seriously injured.
One other passenger was treated and released from hospital on Saturday while the driver of the luxury van and another passenger were unhurt.
New Jersey State Police have now released audio recordings of the three emergency calls made after the crash.
One unidentified woman told the operator: "It's a terrible accident. The car flipped. It's on its side. It's two vehicles and a Walmart truck."
Morgan, who also starred in Saturday Night Live, was scheduled to start filming ten episodes of a new half-hour comedy show in August, for cable network FX.
"The only thing we are concerned with is the health and recovery of Tracy Morgan and the victims of this tragic accident," said the network in a statement.
"We will support Tracy and his family in every way possible throughout his recovery. At the point when Tracy has recovered and decides that he is ready to go back to work, his show will be waiting for him."