Marcus Wareing to replace Michel Roux Jr on MasterChef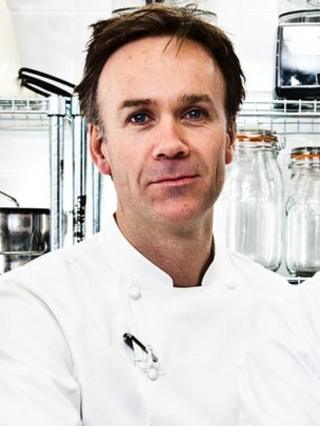 Chef Marcus Wareing will replace Michel Roux Jr as a judge on MasterChef: The Professionals on BBC Two.
Roux quit the judging panel - which also features Gregg Wallace and Monica Galetti - earlier this year, after a dispute with the BBC over his endorsement of a brand of potatoes.
Wareing has two Michelin stars and has worked at some of the world's top restaurants.
He said it was "a true honour" to join the seventh series this autumn.
"I have been watching MasterChef since I was a young kid at catering college and in more recent years I have enjoyed an established relationship with the programme," said Wareing.
"To now become part of the show is hugely exciting for me.
"Michel has left big shoes to fill and I am delighted to be working with Monica and Gregg on a new journey of discovery to find the next generation of Michelin-starred chefs."
Ramsay protege
Wareing's own career started at The Savoy in London when he was 18 and he earned his first Michelin star at the age of 25 when head chef at L'Oranger.
He worked with Gordon Ramsay for many years and was dubbed his protege, before a business disagreement in 2008 saw them go their separate ways.
Among his current ventures are two top London restaurants, Marcus and the Gilbert Scott at the Renaissance Hotel, St Pancras Station.
Fellow judge Wallace called Wareing "one of the outstanding chefs of my era", adding: "I'm absolutely thrilled to be working with Marcus."
Wareing has previously featured as a guest judge and has also judged BBC series Great British Menu, after winning the dessert course on the show in 2006.
"His experience of coming from humble beginnings in the north of England and making his way into the country's best kitchens, to then rise to be awarded two Michelin stars, is extremely inspiring and will speak to the young chefs who hope to follow in his footsteps," said Karen Ross from production company Shine Soho, which makes MasterChef.