Jennifer Lopez denies World Cup opening ceremony cancellation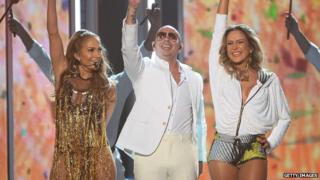 Jennifer Lopez has said she will perform at the World Cup opening ceremony in Brazil, despite claims she had pulled out.
Fifa said earlier this week the singer would not be performing the official tournament song on Thursday.
However Lopez told the Associated Press on Tuesday she was flying to Brazil later that night.
"People get nervous and I think it was a little bit premature to announce anything," she said.
Fifa officials had said the singer was not able to attend the ceremony because of unspecified "production issues".
But Lopez said: "I think people get anxious, especially with me and my schedule when I'm like, 'Ah, OK, I can leave this day, that day, I don't know if we can make it' - but we are definitely going."
'So lucky'
She added she would perform We Are One (Ole Ola) alongside rapper Pitball and Brazilian singer Claudia Leitte - with whom she has recorded the song - before Brazil takes on Croatia at the opening game in Sao Paulo.
Lopez said the World Cup song was orchestrated by Pitbull, who invited her to join on the track.
"I can't take credit for this. This was one of Pitbull's call-ins," she said.
"He had this record and he's like, 'I think this record could be great for the World Cup - will you do it with me?' And I go, 'Yeah, of course'."
She added: "I'm so lucky that he gave me the opportunity."
More than 60,000 people are expected to be in Sao Paulo's Corinthians Arena to watch the ceremony and kick-off match.
Up to a billion people worldwide are expected to tune in on television.