Tracy Morgan's new TV show 'will be waiting for him'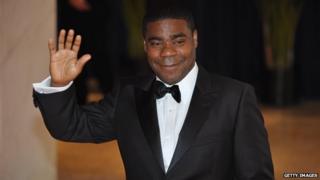 Tracy Morgan's new sitcom "will be waiting for him" when he recovers from his injuries, US TV channel FX says.
The comedian was critically injured in a six-vehicle crash on Saturday, and is expected to be in hospital for several weeks.
Another comedian, James McNair, known as Jimmy Mack, was killed. A Walmart driver has been charged over the crash.
Meanwhile, comic Louis CK has asked celebrity website TMZ to remove video of the aftermath of the accident.
Morgan was nominated for an Emmy for his role in 30 Rock, which ended last year. He was due to start filming a new series for FX in August.
"The only thing we are concerned with is the health and recovery of Tracy Morgan and the victims of this tragic accident," the channel said in a statement.
"We will support Tracy and his family in every way possible throughout his recovery."
The statement continued: "At the point when Tracy has recovered and decides that he is ready to go back to work, his show will be waiting for him.
"Right now our thoughts and prayers remain with Tracy, the other victims of the accident, and their families."
Truck driver Kevin Roper, 35, pleaded not guilty to death by auto and assault at a hearing on Thursday.
Prosecutors say the Walmart driver had not slept for more than 24 hours before the accident early on Saturday morning, when he swerved to avoid traffic on the New Jersey Turnpike, crashing into Morgan's van.
The impact killed Mr McNair, while Morgan suffered a broken leg and nose and several broken ribs. Two other passengers were seriously injured, one was treated and released from hospital on Saturday, while the driver and another passenger were unhurt.
Gossip website TMZ has attracted criticism for posting footage of the crash site, which shows motorists stopping and pulling a body from the wreckage of Morgan's limousine.
Several reports suggest the body, which is laid, unconscious on the road, is that of comedian Ardie Fuqua.
"TMZ has a video of footage of my friends Tracy and Arte in a terrible crash," wrote Louis CK on Twitter. "They are in ICU [an Intensive Care Unit]."
"Please don't go to TMZ to watch the video. Please ask them to take it down," he added. "Take it down TMZ. Now. Please."
The stand-up, who appeared in the Oscar-nominated movies Her and American Hustle, also linked to a statement from Fuqua's daughter, who has unsuccessfully petitioned TMZ to remove the footage.
"They don't understand how hurtful it is to see my father be dragged out of the wreckage," she said.
"All I ask is to be kindly left alone so that my father and everyone else can be left in peace."
A publicist for Tracy Morgan said on Monday that the comedian was in "critical but stable condition" at Robert Wood Johnson University Hospital in New Jersey and that his recovery "will be arduous".