Sir Cliff Richard to stage free solo show in New York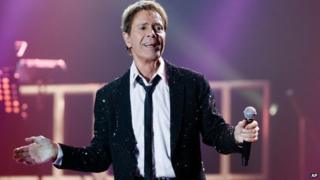 Sir Cliff Richard is to stage a free solo show in New York after his gig supporting Morrissey was cancelled.
Sir Cliff's show will take place on 21 June, the same date the original Morrissey gig was due to take place.
The veteran star said he wanted to thank his "loyal fans". The show will take place at the Gramercy theatre.
Fans who had tickets to Morrissey's Barclay Center show will get priority on a first come, first served basis if they bring proof of purchase.
Sir Cliff added that the performance would include a question and answer session.
'Intimate evening'
He said: "I know that many fans were disappointed about the Morrissey concert being cancelled and I was disappointed as well.
"I've decided I'm going to go anyway to New York and I'm going to put on an evening.
"While it won't be the show I had planned to do with Morrissey, it will be a really nice, intimate evening with my fans and I'm looking forward to seeing everyone there."
The remainder of Morrissey's US tour was called off last week when the former Smiths frontman collapsed following a show in Boston.
Morrissey was taken to hospital after the incident, where he was treated for a respiratory infection.
The medical attention "was not enough to shake off the virus, the recovery time for which is too lengthy to meet the final nine shows of the tour".
Morrissey, who had been in the middle of a 30-day tour, also cancelled 22 US concerts last year due to ill health.