Tamsin Greig to star in Pedro Almodovar musical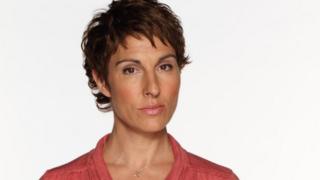 Episodes actress Tamsin Greig is to star in a West End musical adaptation of director Pedro Almodovar's Women on the Verge of a Nervous Breakdown.
Greig will play the main role of Pepa in the Madrid-based comedy about female friends and their chaotic lives.
The 1988 film is one of Almodovar's most famed and garnered Oscar and Golden Globe nominations.
Olivier-award winner Greig said she was "excited, thrilled and terrified" to be taking on the new role.
"I feel very fortunate to have been encouraged - well, bullied - by my agent to have singing lessons, to learn new skills and to experience other creative mediums. I have also run out of excuses why I can't do it," said Greig.
Greig is known best for her TV roles, many of which have been comedic. She is currently starring in the hit BBC Two comedy series Episodes alongside Stephen Mangan and Matt LeBlanc.
Her Channel 4 comedy series Friday Night Dinner is also starting a new series this week.
But on stage, she has also had considerable success, winning an Olivier and Critics Award for best actress in Much Ado About Nothing and being nominated for her role in The Little Dog Laughed.
Other notable stage productions have included Jumpy at London's Royal Court and Duke of York's theatres and The God of Carnage at the Gielgud.
Her musical debut, at London's Playhouse Theatre from January 2015, will be directed by the Tony Award-winning Bartlett Sher.
Women on the Verge of a Nervous Breakdown was Almodovar's first international hit, which he based on Jean Cocteau's The Human Voice.
The eclectic Spanish director, whose other films include Tie Me Up! Tie Me Down! with Antonio Banderas and Volver with Penelope Cruz, has been involved in the forthcoming musical production of his film.
"I love that my Women on the Verge of a Nervous Breakdown resists the passing of time," he said.
"Twenty-six years after having been created, they're still alive. This time, with the very talented Bart Sher in command, they're taking London, a city that's always been to me the paradigm of freedom, pleasure and modernity. I wish them a long and funny stay."
Women on the Verge of a Nervous Breakdown is due to open at London's Playhouse Theatre in January 2015, with previews running from 20 December 2014.