Is there still a right time to applaud at the theatre?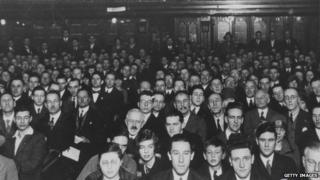 Actor Martin Freeman's heavyweight role as Richard III has been greeted by cheers and applause in all the wrong places - according to some critics and theatre traditionalists. But is there still a right time to show your appreciation at the theatre?
Young fans of the Hobbit star have been piling into previews at London's Trafalgar Studios and failing to respect the etiquette of waiting to applaud after scenes, breaking the concentration of one theatre critic and blogger.
Claire Dikecoglu said she found their behaviour "disruptive and unnecessary", adding "I have no bigger pet peeve than everything getting standing ovations these days."
Some theatrical big hitters have added their weight to the debate, with Dame Eileen Atkins suggesting the practice "ultimately breaks the spell of the story".
Maureen Lipman, about to star on the West End stage in Daytona, said Freeman was bound to bring new and youthful audiences to see Shakespeare.
"It is not so much Richard III as Richard the rock concert," said the actress.
Theatre critic Matt Trueman says it was a case of new people coming to the theatre who maybe "weren't familiar" with traditional etiquette, but should be encouraged rather than turned away.
"I'd far rather we got new people into the theatre who find themselves swept away with the story than we got the same set of theatre-goers who know how to behave and huff at anyone who breaks that mode of behaviour.
"Theatres are often encouraging people to take a more active role, such as Punch Drunk where they want you to find stories and interact," he says.
Fellow critic Miriam Gillinson railed against celebrity actors being hailed by the audience just for being famous.
"People just applauding at celebrities I find deeply frustrating. It's not useful and takes them outside of the play rather than help them to lose themselves in it - the Hobbit fans are not applauding Richard III, they're applauding Martin Freeman.
"But if the etiquette is being broken for the right reason, it can be brilliant and I'm all for it. It can be a useful indicator that a play is spot on."
Ms Gillinson recalled a recent performance of NHS play This May Hurt a Little, in which a group of nurses in the audience heckled and whooped at moments that touched them.
"I do think those rules and boundaries are being broken as theatre becomes less and less formal," she adds.
The habit of clapping stars when they take to the stage is well established on Broadway. Actor Daniel Radcliffe called it "a sign of being very liked and that's lovely. It's just something I don't think I'll ever get used to."
While he added that actors on the London stage are "unaccustomed" to it, the whole notion of what is considered proper behaviour at the theatre has evolved down the centuries.
Performances of Shakespeare plays during the Bard's own lifetime were notoriously bawdy.
"Theatre at the Globe was seen as disreputable, audiences were very mixed and people would be eating, drinking and chatting - it was a social occasion," says Dr Helen Brooks, theatre historian at the University of Kent.
"It was somewhere you went to enjoy yourself and not necessarily see the play," she adds.
"In the 18th Century came the birth of celebrity, and people go to the theatre to see their favourite performers. They would strike particular poses they were well known for, and that's when the audience applauded.
"They weren't there for the whole narrative - that was the etiquette then. Certain actors would be asked to perform the same thing over and over. It was an interactive experience, much more so than today, and was expected."
"If there was something they loved, they'd applaud and not wait for the curtain call or the end of the act," added Dr Brooks - much like Freeman's present day Richard III.
She says that unlike modern theatre, there was no dividing line between the stage and the audience, as both divisions were lit the same way. The stage is now its own little bubble.
"Until around 1880, They could all see each other, and those actors were very much playing to that audience."
So when did current theatrical etiquette come into play?
At the end of the Victorian era, the London theatre split between east and west end, with the former more earthy and rowdy, with west London theatres becoming the place for the middle and upper classes to be politely entertained and applaud at certain junctures.
"The class ethos of theatre was formed at this time and the conventions that we know today," said Dr Brooks, who added that these rules have to be taught and may not be known to new audiences.
"Unless you're brought up and trained to know what these conventions are, it's difficult to be expected to respond in certain ways."
But one break of theatre etiquette in recent years that has been broadly condemned are accidents with mobile phones.
Last month, actor Kevin Spacey was the most recent in a long line of performers who have reprimanded audience members for leaving them switched on.
While the debate over whether cheering a star or applauding them mid-scene rumbles on, letting a phone ring remains a no-no.