Award-winning radio hosts Sam and Amy land Radio 2 slots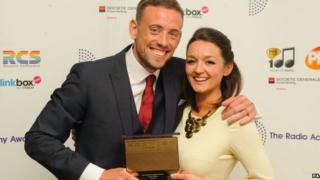 Two award-winning radio presenters from East Midlands radio station Gem 106 are to host some weekend programmes for BBC Radio 2.
Sam Pinkham and Amy Voce will hit the national airwaves this weekend, sitting in for Richard Allinson on Saturday and Sunday from 03:00 BST to 06:00 BST.
The duo won gold in the music radio personality of the year category at the Radio Academy Awards in May.
They beat Chris Evans, Graham Norton, Christian O'Connell and Mark Radcliffe.
'Laugh-out-loud storytelling'
Pinkham thanked Gem 106 for allowing them to moonlight at Radio 2, adding: "I never really thought it would happen, and on our first show we'll be warming up for Anneka Rice! I presume she'll be wearing a yellow jumpsuit?"
Voce said she was "absolutely delighted" to have the opportunity to "present at the Holy Grail of radio".
"Radio 2 has always been the dream, so for this to actually happen is something truly special. I thought we'd both be nervous but we're just excited and itching to get on and enjoy it!" she said.
The presenters have hosted Gem 106's weekday breakfast show for eight years and will continue to do so.
'Best of luck'
When they collected their Gold Award, the Radio Academy said the duo had "an equal partnership, dripping with honest, vivid, natural and laugh-out-loud storytelling".
David Lloyd, group editorial director at the radio station's owner, Orion Media, said he was "delighted" their talents had been recognised by the BBC.
"I'm not surprised Radio 2 have cottoned on. If they need to borrow them now and again to help them out, it's the least we can do," he said.
Lewis Carnie, head of programmes for Radio 2 added: "It's always exciting when presenters make their debut on Radio 2, so I'd like to welcome award-winning broadcasters Sam and Amy to the network, and wish them the best of luck with this weekend's show. "