Golden Globes legal case resolved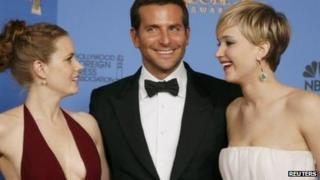 A long legal wrangle has finally been resolved between the organisers of the Golden Globes and the company that produces the TV broadcast.
The Hollywood Foreign Press Association (HFPA) and Dick Clark Productions (DCP) did not reveal terms of the settlement.
The 2011 dispute was over who owned broadcasting rights until 2018.
The two bodies will now continue to work together, the HFPA's boss said, and the 2015 awards will be broadcast live on NBC on 11 January.
The Golden Globe Awards are given in the US and voted for by members of the HFPA for excellence in film and television, both US and foreign.
The award ceremony is a key part of the annual film awards season, which culminates with the Oscars.
Following the dispute between the HFPA and DCP, a US judge ordered a trial in March 2011 to decide ownership of the broadcasting rights to the Globes for the following seven years.
The HPFA had sued DCP and its owner, Red Zone Capital Partners, claiming it sold broadcast rights without adequate permission.
The HFPA also alleged the rights to the show were sold to the NBC TV network for less than they were worth, saying DCP did not have permission to negotiate a long-term deal with NBC because it only had rights to produce the show until 2011.
The production company had claimed it has the right to work on the show as long as it airs on NBC, but the association argued that it never agreed to those terms.
Last year's awards saw crime caper American Hustle win three awards, including best film comedy or musical.
Steve McQueen's historical tale 12 Years a Slave received the top honour of the night, winning best film drama.