The many talents of Julia Donaldson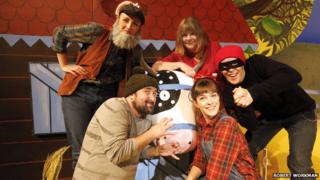 Children's author Julia Donaldson is a prolific writer and shows no signs of slowing down as a stage version of her book What the Ladybird Heard swings into the capital this week.
Donaldson, whose bestselling books include The Gruffalo, The Snail and the Whale and Room on the Broom, has seen several of her stories turned into stage plays, including Stick Man and The Gruffalo's Child.
But she still finds the experience of seeing her work come to life exhilarating, particularly because the Ladybird's illustrator, Lydia Monks, is involved in the show.
"It's always so exciting, particularly for this production to see not just my words but Lydia's artwork on the stage," she says.
"The production is so faithful to her drawings. She had a hand in the design [so] the costumes, the props and the setting are very true to the illustrations in the book."
The former Children's Laureate says that, while she likes to let the production company get on with their work unhindered, she does have some caveats.
"I like to vet the company to make sure I'm happy with their approach - not too patronising or over-jolly or hearty.
"I usually meet the producer, director and musical director two or three times but I don't go to rehearsals and breathe down their necks," she explains.
Having begun her career writing music for children's television, one wonders why she hasn't composed a score for the stage show?
"I would love it if they asked me! But equally, if a company wants to do their own songs, I'm perfectly happy with that."
Indeed, Donaldson wrote two musicals in her early career when she was in her 20s - King Grunt's Cake and Pirate on the Pier.
And she reveals that her next project will be "some kind of musical" but says "I haven't pinned myself down to exactly what yet".
In the meantime, Donaldson is enjoying settling down in her new home, having recently moved from Scotland to Sussex.
Never one for the limelight, she is a little wary of being recognised more often than when she lived north of the border.
"Luckily, your books are known more than your face," she says, "but I've recently moved from an anonymous suburb to a much smaller town. I've done events in the local bookshop so I expect some people will recognise me. I feel I have to brush my hair and not throw a tantrum in the shop!"
It's hard to imagine the mild-mannered and affable Donaldson ever throwing a tantrum but she does admit to once chucking mushrooms at a man who aggressively told her he owned the patch of ground from which she was collecting her funghi.
"I'm such a rotten aim and they're quite light but it was still quite satisfying. I was right by the car and Malcolm (her husband) was driving so I made a quick getaway!"
When she's not having altercations by the roadside or writing best-sellers, Donaldson is enjoying time with her three grandchildren.
Poppy, aged four, is her eldest grandchild and is the perfect age for many of her grandmother's books.
"She's at that stage now where she knows her father's called Alistair, her mum's called Chris, her grandad's Malcolm but I'm called Julia Donaldson.
"She's been on stage - when I went to her nursery she acted the snake in The Gruffalo and was word perfect," she says.
Donaldson's two latest books should provide some new bedtime material.
The Scarecrow's Wedding sees her team up again with her long-time collaborator, Axel Scheffer, while The Flying Bath is illustrated by David Roberts, another old friend.
The story is about three bath toys who take SOS calls via the shower attachment from animals who need water - such as a baboon whose tree is on fire.
She describes Roberts' method as "very painstaking, very stylised".
"He's very witty. He used to be a milliner so he loves clothes and is actually keen on footwear.
"When I wrote The Troll, I thought the character would be sloshing about in the river in galoshes but in fact he ended up wearing very dainty, pointy boots."
Donaldson's books for older children are perhaps not as well known as her illustrated tales but she says her novel for teenagers, Running on the Cracks, is the one she is "most proud of".
The book is about a half-English, half-Chinese girl who goes on the run and befriends a boy called Finlay.
In 2009, it won the Nasen Inclusive Children's Book Award for its positive portrayal of people with mental health issues - a topic Donaldson is sadly all too familiar with: Her eldest son, Hamish, killed himself in 2003 at the age of 25 after living with schizoaffective disorder.
In an interview with The Guardian in 2009, Donaldson revealed that several characters - including Mary, who shelters the runaway - were based on Hamish's hospital friends.
"It is a slightly rosier picture than reality," she said, "but it might raise awareness".
'Spontaneous things'
Speaking today, she says: "I tried to create really rounded characters because in a picture book it's more about the story and the illustrators. They're not proper characters, they just represent certain characteristics."
Running on the Cracks "was more disciplined," she continues.
"I had to write my 1,000 words (a day) come hell or high water even if I wasn't very happy with them but it was easier to do in a way... sometimes with a picture book I'm really in the mood for writing but haven't yet got a proper developed idea so I can't just sit down and write."
"It's hard to have a favourite book, because they're like all my children. But that's the one I'm most proud of because I actually wrote a full-length novel."
Donaldson is known for her appearances at local venues and at festivals and enjoys engaging with her readers.
"It's equally important, that's who I feel I am. It's not typical as a writer. I love doing the intimate, spontaneous things and the bigger events and we do have a whole room full of props - puppets, dressing up costumes, etc."
It is this room you can see in the background of Donaldson's portrait, which hangs in the National Portrait Gallery in London.
Now at official retirement age, and having penned more than 50 books, the writer surely has the right - and the financial security - to relax a little.
"It's up to me, really, what I do. I would like to wind down a little bit but then it's quite hard as I also love travelling and I get asked to do so many things.
"However much I say no to - and I say no to 95% of things - you feel the publishers work so hard... I'm lucky that I get the requests, I'd feel it would be a bit churlish (to refuse). So I can't really see things slowing down very much."
What the Ladybird Heard is on at Cadogan Hall in London from 24 July until 10 August.