Conan O'Brien brings Team Coco to the UK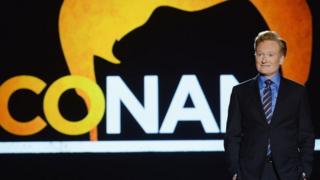 Conan O'Brien has been a mainstay of US TV late-night chat shows for the past 20 years. Now's he's bringing his show to UK screens for the first time.
Late-night talk shows may be foreign to most UK audiences, but in the US they have been a daily fixture for more than 50 years with millions staying up into the small hours of the morning to watch.
Conan O'Brien first fronted his own show in 1993, taking over from David Letterman as the host of Late Night.
Having previously cut his teeth in comedy writing for Saturday Night Live and The Simpsons, it served him well for 16 years in the 00:35 time slot.
He landed the coveted job of hosting The Tonight Show in 2009, succeeding Jay Leno. But after a very public spat with TV network NBC - who wanted to move O'Brien down the schedule to bring back Leno to try to revive his new flailing show - it was a role which only lasted seven months.
Moving to cable channel TBS, the flame-haired host nicknamed Coco by fans has not looked back since. Now he's bringing his brand of improvisational, self-deprecating comedy to the UK with his self-titled show to be screened on new Freeview channel TruTV.
Usually you're the interviewer - how's it been doing press over here for a couple of days?
It's a little like being in a time machine because I'm introducing myself to people who don't really know my work that well. It's been kind of fascinating.
Everyone in America knows my back story, so here I find myself going back 20 years and answering old questions like: "How did you get into this line of work?" - questions people in the States don't ask me anymore. In the US people are like, "yeah, that guy".
For the Brits not familiar with you, tell us three essential things that sum you up in a nutshell.
Taller than you think; pleasant odour and I have ridiculous hair. It's absurd looking - it's based on a French pastry I saw in a window. I don't take myself very seriously - I take my work really seriously, but my work is to not take myself seriously. I love being silly and my show is all about the absurd. That's what makes me happy.
We don't have daily late-night chat shows in the UK so sell it to us - why should we stay up way past our bedtimes to watch?
You simply must because life without me isn't worth living. We work very hard on my show behind the scenes to create very silly moments every night that I think are worthwhile.
Our show is not aggressively topical - I sometimes think topicality can hurt how a show transfers to another country, especially if it's a day or two later and they don't know the ins and outs of every story in America.
If you like absurdity and silliness you'll grow to like my show. Whether you should stay up and watch it, that's another matter - that's up to your biorhythms.
Forty per cent of Americans aren't getting the recommended seven to eight hours sleep a night. How do you feel about your role in that?
My initial feeling is that I feel remorse. And that's quickly followed by a realisation that it's been quite lucrative for me and the remorse goes away.
I think Americans need to sleep later and the work day should start at 11am. We have this archaic belief you're supposed to get up at seven and get into work by nine. I think that should change so people can watch late night TV - our priorities need to shift.
It's a strange concept to us to plough a lot of money into what is a graveyard slot here - why is the format so successful?
I don't know why - it was obviously created in America and came out of necessity. There were these time slots they needed to fill, so the early late night shows were literally people time killing - they just got ingrained. It's uniquely American that we have these shows and now we have so many of them. When I started I think there were only three of us.
There are 19 US late-night shows - do you think the market is overcrowded?
Yes - I think everyone but me should go.
There've been a lot of chat show hosts announcing their retirement recently like David Letterman, Craig Ferguson and Chelsea Handler. You've been doing this for 20 years - can you see yourself doing this for another 20?
I don't know about another 20 years but I love doing it. As you can attest, I don't look a day over 21. I don't age. And I've had multiple surgeries - I have Cher's surgeon so I've stayed young.
I never thought I'd do it this long... but when we have a good show I desperately want to have another good show. If I have a bad show I desperately want to go back and have a good show to erase the taste of a bad show. When you look at that system you never stop - it's a perpetual motion machine.
It must be challenging to write new material and ideas every day?
Yeah, and you don't always. But sometimes you go into a show - you had a terrible rehearsal, you didn't like any of the material and you're despondent. But you get out there and the audience is good and happy accidents start to come your way, you end up having the best show you've had in two or three months.
How fame has changed you?
Everybody is deluded on this question [but] my friends make a point of telling me I'm very much the same person. I really try to keep it separate from my family life - I don't go out a lot, I don't go to premieres, I don't expose my kids to any of this.
The biggest change is I take a lot of selfies now: Walking down the street and taking selfies with people. It sounds corny but I enjoy meeting people and if I can make them laugh and it takes five seconds to get a selfie with them I'm happy to do it.
I'm not one of those people that feels, "Why, I'm so burdened by my fame."
Do your kids think you're funny, or are you an embarrassing dad?
Yes, fortunately. They're 10 and eight and they think I'm really funny. I can tell my daughter within a year or two will be in the eye-rolling my-dad-is-so-embarrassing stage, but I can still make them laugh really hard and they say, "Do that again." And that's when I say, "Pay me."
What have you observed about the British while you've been here?
I am stunned by the outfits - everyone's just so well put together, especially women.
Were you expecting us to be dressed like wenches?
Yes, I thought you'd be carrying slops buckets or selling fish out of a cart. No, people really dress up here. I am very impressed.
But your elevators are so small. I think they used to be closets and you turned them into elevators.
The drinking here seems to start here at 4pm. I see all these people standing outside the pub and I'm like, it's a Monday! They should do a study on productivity here - does it plummet at 3.30pm?
And you can stand outside - we can't stand outside with a drink. Only in New Orleans and then it has to be in a plastic cup. But this idea of people standing around outside it's nice, I like that.
You have a segment on your show called Clueless Gamer - we thought we'd see how you get on with table football...
[Five minutes later]
Ok, you've chosen the game you're best at clearly. Some day we'll do the game I'm best at - do you know Hungry Hungry Hippos?
Conan is on TruTV, Monday to Thursday at 23:00 from 4 August.