Marcus Brigstocke: 'Robin Williams is why I started comedy'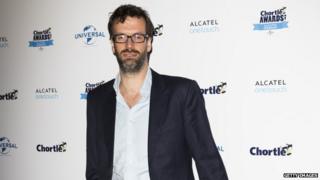 Stand-up comedian Marcus Brigstocke, who hosted BBC Four's The Late Edition and has appeared on various CBBC shows, tells the BBC why the death of Robin Williams has left him feeling lost.
"I doubt that anyone of my generation woke up this morning without the terrible feeling that in some way a hole had been torn in their childhood. For me, a light went out last night and today I am sad and confused.
Robin Williams is why I started in comedy. I knew the whole of Live At The Met. I didn't seek to learn it - I just watched it and loved it so many times that it all went in. It remains my favourite stand-up show of all time. He is infectious and frantic and leads us by the hand into his world... it's perfect.
Comedy poured out of Robin like water. He drenched us in his joyful, unafraid, hilarity and made us the better for it. It always made me feel that inside Robin there was a genie made of jokes that delighted at any chance to come out and play.
His death has made me so deeply sad. I never met him but what he gave to me through his work I will always be grateful for.
Those who burn as brightly as Robin do so at great cost to themselves. It takes a lot of fuel to do what he did. Where that comes from, what informs it and what it costs can be dangerous. That he felt such sadness and struggled with addiction and depression is tragic.
He was not alone but the horror of those conditions is that it so often leaves you feeling that you are. I only hope that in the very depths of despair, somewhere inside he knew what he did for all of us who were lucky enough to have seen him perform. I will miss him.
We are blessed. Robin gave us about three lifetimes worth of work in the years he was here and we will have that to enjoy forever.
Oh Captain, my Captain.
Rest in peace Robin Williams and thank you for all that you have been."