Super Furry Animals musician makes book prize shortlist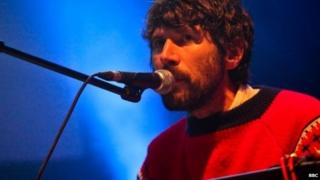 Super Furry Animals musician Gruff Rhys has been shortlisted for the 2014 Gordon Burn Prize for his book, American Interior.
The book is part of a multimedia project that includes an album and app of the same name.
Rhys has joined five other writers on the shortlist for the £5,000 award, which will be announced on 10 October.
The prize said it recognises "authors whose novels enter history," and "brave" non-fiction writers.
One of the founders of the award, Lee Brackstone of publisher Faber & Faber, praised the list saying it is "embarrassingly rich and strong in literary qualities that Gordon (Burn), we hope, would have found attractive."
Rhys's work, which maps a musical journey across the United States, was shortlisted alongside two other non-fiction works and three novels.
Paul Kingsnorth's book, The Wake, tells the story of Anglo-Saxon fighters waging a guerrilla insurgency against the Normans after William the Conqueror's invasion in 1066.
The novel has also been longlisted for this year's Man Booker Prize.
'Fearless footsteps'
The Free, by Willy Vlautin, tells the story of three characters wrestling with the aftermath of the Iraq war, while The Kills, by Richard House, is a novel looking at the shady world of security contractors working in the country after the conflict.
The other non-fiction titles on the shortlist are The Trip to Echo Spring, Olivia Laing's examination of the role of alcohol addiction in the lives of American writers; and The Valley, by Richard Benson, which charts the fortunes of a Yorkshire mining family over several generations.
The prize, now in its second year, will be judged by comedian, actor and musician Julian Barratt, poet John Burnside, artist Sarah Lucas and novelist Benjamin Myers, who won the award last year for his book, Pig Iron.
A collaboration between New Writers North, Faber & Faber, and the Gordon Burn Trust, the organisers say the Prize is awarded to writers who follow the "fearless footsteps" of Burn, a polymath who wrote on subjects ranging from "serial killers... to contemporary art".